I am extremely excited about this interview with former Georgia Tech Yellow Jacket and current Yankees farm hand Brandon Thomas. I did not watch much college football when I lived in New York, although I did root for the Syracuse Orangemen in March Madness, but when I moved down here I got into CFB. Everyone in my town roots for the rival Georgia Bulldogs so, me being the different guy I am, started following the Yellow Jackets. It started in football, was followed by basketball, and ended up watching their baseball team. Now I am interviewing former GT players and current Yankees players and I am stoked, I hope you enjoy it as much as I enjoyed doing it.
The Greedy Pinstripes: Brandon Thomas, former Georgia Tech Yellow Jacket (my favorite college team), how are you today sir? How is your offseason going?
My offseason has been great. I've been able to work on some things and am getting ready to get started.

TGP: How do you plan to follow up a 2013 season in which you were named the Yankees Best Athlete coming out of the draft?
I plan on continuing to work hard, improving all areas of my game, and having a great first full pro season.
TGP: Do you miss anything about the whole college experience or anything specifically at Georgia Tech?
I really enjoyed my college career at GT.
TGP: Do you keep up with the Georgia Tech baseball and/or football teams? Another tough season and bowl loss. How much longer does Coach Paul Johnson have left?
I keep in touch with a lot of the GT Baseball players and coaches. I have a lot of great
relationships from my 4 years there.
TGP: How many Varsity hot dogs or chili cheese burgers do you think you have eaten in your life?
Zero!

TGP: What were you doing when you found out that you became a member of the New York Yankees?
Waiting in the kitchen with my Mom to find out where I would be going.
TGP: What teams and sports did you root for and watch growing up?
I've always liked watching baseball, basketball, and
football. No specific professional teams though.
TGP: Favorite restaurant to eat at?
Chipotle
TGP: What current Major League player do you think you compare to the most?
Jacoby Ellsbury and Carlos Beltran are two of my favorite players
TGP: How important is family to you in your life and in your career?
Faith and family are the two most important things to me in my life.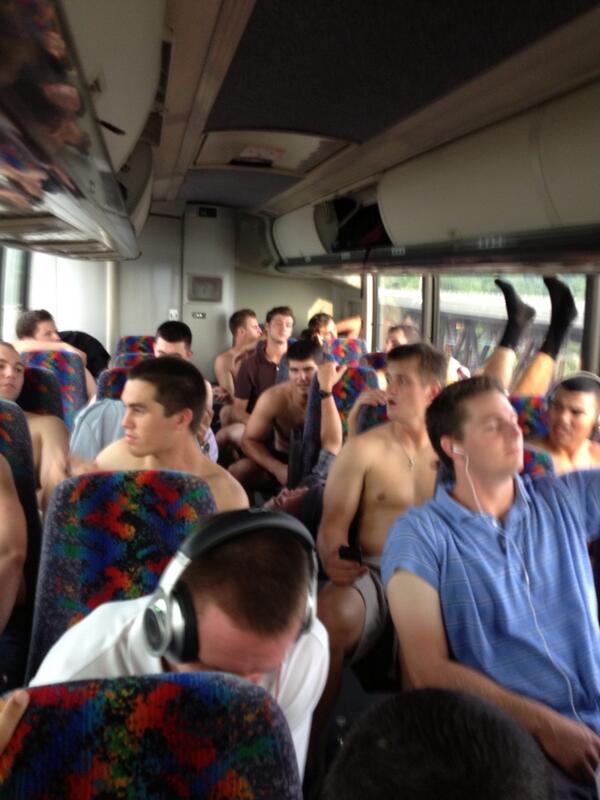 TGP: Speaking of embarrassing please explain the picture on your Twitter of you and a bunch of your teammates half naked on a bus. I'm not judging though.
Haha! The AC on our bus this summer broke... Not a fun 8 hours
TGP: Any parting words you would like to express to all those Georgia Bulldogs fans?
Proud that we had a winning record against the bulldogs in my GT career!

TGP: We'll finish with this one, where do you see yourself in life and your career in five years?
I see myself a few years in to my big league career in 5 years.
Thank you again to Brandon for doing this interview for us, I thoroughly enjoyed it. You can follow Brandon on Twitter by following @brandonthomas6.