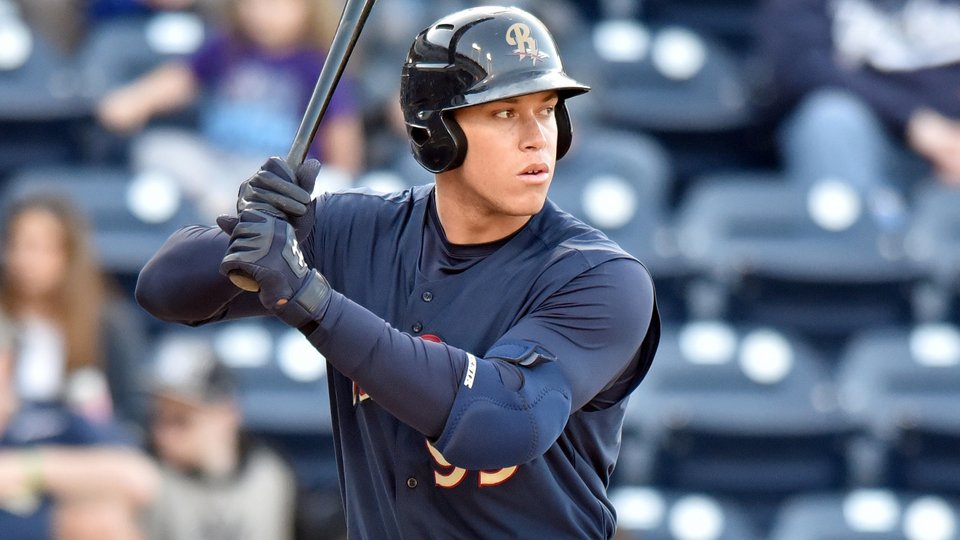 Another Yankees bites the dust to injury and another Yankees prospect is still sitting in Triple-A chomping at the bit trying to claw his way to the Major Leagues. I'll never understand why the Yankees do what they do in the prospects department and I'll never understand why they rely on veterans no matter the circumstance but in the same breath I am under no illusions that I know more as a fan than the people in the organization.
So we'll save the Yankees front office second guessing for another day, and trust me another day will come, and instead we'll focus on what the Yankees are doing right. Aaron Judge is doing better in Triple-A than he did in 2015 and at one point he went on a home run streak that undoubtedly opened up eyes in the Bronx.
Judge is an authoritative figure with an absolute ton of power and word is that he has adjusted his batting stance a bit to better reach the inside part of the plate. It has also, whether by design or not, made him better and recognizing the breaking stuff off that plate that has terrorized him for much of his career making him a much better hitter. The improvements are there and it won't be long before the Judge will be in the Bronx reigning terror on opposing pitching staffs.


| Year | Age | Lev | G | PA | R | H | 2B | HR | RBI | SB | BB | SO | BA | OBP | SLG | OPS |
| --- | --- | --- | --- | --- | --- | --- | --- | --- | --- | --- | --- | --- | --- | --- | --- | --- |
| 2016 | 24 | AAA | 30 | 136 | 17 | 32 | 7 | 7 | 20 | 1 | 11 | 34 | .260 | .316 | .488 | .804 |