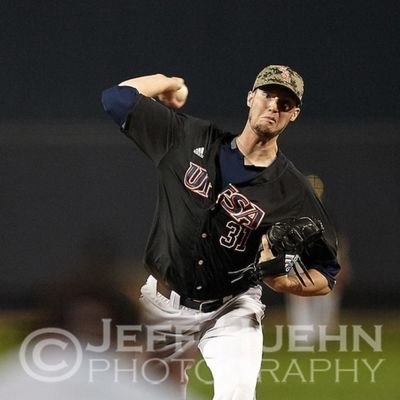 With their 16th round pick, 487th overall, in the 2018 MLB First Year Players Draft the New York Yankees selected Derek Craft, a center a wide receiver a right-handed starting pitcher out of the University of Texas-San Antonio (UTSA). Craft is an imposing figure out on the mound, so let's meet him. This is Meet a Prospect: The Derek Craft Edition.
Craft stands 6'8" and weighs in at 200 lbs. making him an uncomfortable at-bat for opposing hitters every time that he takes the mound. Craft was dominating as a junior posting a 1.89 ERA in 52.1 innings of work as he split time between the bullpen and the starting rotation. Craft made 24 appearances in 2018, although only three of them came as a starter, and held opposing hitters to a .211 batting average against while striking out 62 in 52 innings of work.
2018 was definitely a breakout season for Craft after struggling for much of his sophomore season so be on the lookout for him as he could potentially fly through the Yankees system. New York may opt to go the Chance Adams route with Craft and convert him into a starter, or the team could simply have another bullpen weapon waiting in the wings for Aaron Boone's disposal in a couple of seasons.
Craft has signed with the New York Yankees as of the time of this writing so let's all welcome him not only to the organization, but to the Yankees family as well. You can follow Derek on Twitter by giving @pitchDMC a follow. While you are there go ahead and give us a follow as well, @GreedyStripes. We follow back!