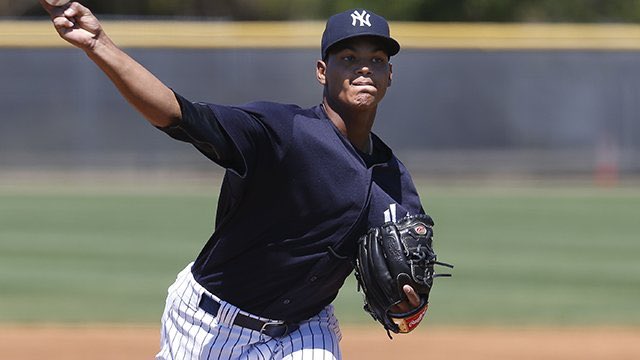 One of the top pitching prospects in the New York Yankees system is Albert Abreu. Abreu was brought over to the Yankees from the Houston Astros in a trade for Brian McCann back in 2016. Abreu is slowly, due to injuries, working his way towards the Major Leagues, so let's meet him and his uber-talented right arm.
Albert Abreu, 23-years old, is a right-handed starting pitcher inside the New York Yankees organization and a RHP that sits at or near the top of the Yankees top pitching prospects in their system. Abreu stands 6'2" and weighs 175 lbs. and possesses a 95-96 MPH fastball that tops out at 99 MPH, as well as a slider, curveball and changeup that he can throw consistently for strikes. Abreu's changeup is probably his most consistent pitch in his repertoire with its steep drop late in its path.
Albert Enmanuel Abreu was born on September 26, 1995 in Guayubin, Dominican Republic where he was signed by the Houston Astros as an international free agent in 2013. Abreu was 17-years old at the time and signed with Houston for $185,000. Abreu spent time in the Astros organization until November 17, 2016 when he was traded along with Jorge Guzman for the Yankees starting catcher, Brian McCann.
Abreu made stops with three affiliates in 2017, starting with the GCL Yankees and ending in A-Ball with the Charleston Riverdogs, finishing the season with 53.1 innings pitched. New York saw enough in those 53 innings to add Abreu to their 40-man roster after the 2017 season.
Abreu pitched for the GCL Yankees again in 2018, as well as the Tampa Yankees and the Double-A Trenton Thunder before heading down to the Dominican Winter League following the season. Abreu was hampered by injuries once again in 2018 and was limited to just 17 games, plus another six games in the DOWL.
Abreu will look to continue his path towards the Major Leagues in 2019, likely starting the year with the Trenton Thunder. If healthy, it won't be long before Abreu is in Triple-A with Scranton… and then eventually the Bronx.