The New York Yankees have their ace, but what good is an ace without a solid bullpen, and especially a lockdown closer? Not very good, ask the Boston Red Sox this season (wishful thinking, maybe). The good news for the New York Yankees is that they have that lockdown closer, a couple of them actually, in Aroldis Chapman. Let's get reacquainted with him before the start of the 2019 season.
Aroldis Chapman, 30-years old for a few more days, is a left-handed throwing closer for the New York Yankees that possesses absolute gas with his left arm. Chapman throws a four-seam fastball that averages out at about 99 MPH, but has gone as high as 105 MPH, an 87 MPH slider, a 102 MPH sinker, and a rarely thrown 91 MPH changeup. All of Chapman's pitches results in either swings and misses or hard ground balls that are easily fielded by his defense behind him, making him the best closer the Yankees could have pitching inside their home field of Yankee Stadium. If a 105 MPH fastball and a `102 MPH sinker wasn't intimidating enough, Chapman does this with a 6'4" and 212 lb. frame and borderline violent mechanics.
Albertin Aroldis Chapman de la Cruz was born on February 28, 1988 in Holguin, Cuba. While Chapman and his family were raised in Cuba, it is only because of his grandparents emigrating from Jamaica in order to get a better education for the future generations. Chapman, at just 15-years old, was a first baseman for a local baseball team when a coach noticed how hard Chapman could throw, pushing him to become a pitcher in 2003. Chapman joined the Holguin Sabuesos of the Cuban National Series League in 2006 and was used mainly as a starting pitcher. Chapman was also part of the Cuban national team at the 2007 Pan American Games and the 2009 World Baseball Classic before defecting from Cuba.
Chapman has attempted to defect once in 2008, but he was caught and given a condition reprieve from Raul Castro. Chapman's second attempt was successful while in Rotterdam, Netherlands where the Cuban national team was participating in the World Port Tournament on July 1, 2009. Chapman established residency in Andorra and petitioned MLB to be granted free agent status. Chapman was declared a free agent by MLB and was quickly snatched up by the Cincinnati Reds who signed him to a six-year contract worth $30.25 million on January 10, 2010. Chapman made his MLB debut that same season, on August 31, 2010, and the young lefty was also added to the Reds postseason roster. Chapman was a reliever for Cincinnati in 2011 but the Reds introduced Chapman as a starter out of the spring in 2012. Injuries to key members of the Reds bullpen didn't allow that to happen and by May of 2012, Chapman was named the team's closer by manager Dusty Baker. Chapman was named an All-Star in 2012 and 2013, but during the 2014 season tragedy would strike Chapman, literally.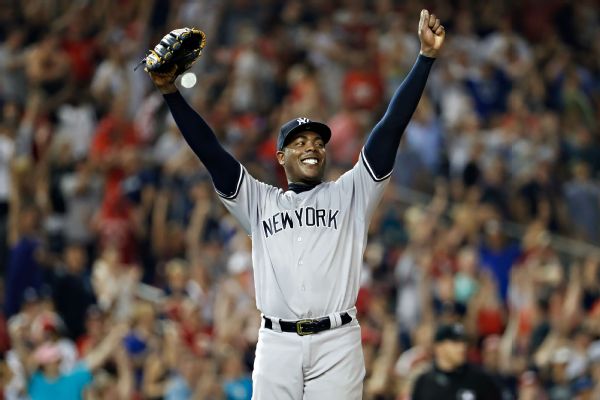 Chapman was struck by a line drive off the bat of Salvador Perez on March 19, 2014, a spring training game between the Reds and the Kansas City Royals. Chapman had to undergo a surgery to fix a skull fracture above his left eye and a metal plate was inserted into his head to stabilize the fracture. Chapman began the season on the 15-day disabled list but would return on May 10th of that year. Chapman was once again named an NL All-Star in 2015 before being traded to the New York Yankees on December 28, 2015. The Yankees gave up Caleb Cotham, Rookie Davis, Eric Jagielo and Tony Renda in the deal after the Reds learned that Chapman was involved, and subsequently suspended, for violating the league's domestic violence policy. Chapman was suspended for the first 30 games of the 2016 season before the Yankees, who were falling out of contention, traded their closer to the Chicago Cubs for Gleyber Torres, Billy McKinney, Adam Warren and Rashad Crawford. Chapman would lead the Cubs to the 2016 World Series and eventually their first World Series championship in over 100 seasons.
Chapman hit the free agent market before the 2017 season and was quickly signed by the Yankees on December 15, 2016 for his second stint with the club. Chapman received a five-year deal worth $86 million, at the time the richest deal for a relief pitcher as of 2017. Chapman has been closing games for the Yankees for two seasons now and has led the team to two straight Wild Card berths, but not yet a World Series. Not until the 2019 season, anyway.
Welcome back, Aroldis. I hope the knee inflammation and tendinitis you battled last season is behind you, because we have a lot of work to do here in 2019. No pressure but make us proud. Go Yankees!!