You want to know what a good thing is for the Yankees, but potentially a terrifying thing is for the rest of the American League? Give up? It is the fact that a guy like Masahiro Tanaka, with his skillset, could be technically a third starter for this Yankees team here in 2019. While Tanaka's stuff and talent doesn't suggest that he is a third starter, it is likely that Luis Severino will start on Opening Day and will be followed by James Paxton. That's what I like to call an embarrassment of riches, and yet some Yankees "fans" are still screaming that the team needs more pitching. I don't get it, but while I try to figure that out let's meet the Yankees import from Japan, Mr. Masahiro Tanaka.
Tanaka, 30-yeard old, is a right-handed starter that the Yankees signed out of Japan back in 2013. What drew the Yankees, and almost every other team in the league, to Tanaka was his ability to throw and command his 84 MPH slider, his 87 MPH splitter, his 92 MPH four-seam fastball, his 90 MPH cutter and a sinker (91 MPH) and a curve (77 MPH) that he throws rarely. Tanaka uses his splitter to strike out opposing batters while his cutter, which has a natural rise to it, has also garnered more swings and misses the more that Tanaka uses it. Tanaka is prone to the home run ball, especially inside Yankee Stadium, and a good amount of those home runs come off of his slider, which lacks two-plane movement.
Masahiro Tanaka was born on November 1, 1988 in Itami, Japan where he began his baseball career way back in the first grade. Tanaka started out as a catcher for the Koyanosato Tigers, essentially a Little League team, and did not start pitching until he attended Itami Municipal Matsuzaki Junior High School. Tanaka would go on to pitch for the Tohoku Rakuten Golden Eagles in Japan and would quickly become one of the better pitchers in all of the league. Tanaka dominated Japanese League batters through the 2013 season, which included a perfect 24-0 record with a 1.27 ERA, before being posted by the Golden Eagles.
The New York Yankees, not without stiff competition after the new posting system was agreed to by Japan and MLB, eventually signed Tanaka to a seven-year deal worth $155 million, included in the deal was an opt-out clause after the fourth season and a full no-trade clause. Tanaka made his MLB debut against the Toronto Blue Jays on April 4, 2014 and promptly gave up a home run to the first batter he saw, ex-Yankees player Melky Cabrera. Tanaka would get the win in his debut and would pitch well for the Yankees until August of that season. In August, Tanaka was added to the 15-day disabled list with a partial tear of his ulnar collateral ligament, a diagnosis that would normally be followed up with Tommy John surgery. Instead, on the recommendations of many doctors including Yankees team doctor Dr. Chris Ahmad, Tanaka instead opted for a PRP shot on the ligament. Tanaka, an All-Star in 2014 as a reserve, rested his elbow for six weeks instead of having Tommy John surgery and was able to return on September 21 against the Toronto Blue Jays.
Tanaka was given the nod as the Opening Day starter for the Yankees in 2015 after winning 13 games in 2014 as a rookie. Tanaka had a pair of trips to the disabled list in 2015, leading many to wonder if he should have opted for the Tommy John surgery the year prior, but eventually he put it all together and was chosen to start for the Yankees in the 2015 American League Wild Card Game. Tanaka and the Yankees would see their season end in this game at the hands of the Houston Astros in a 3-0 loss. Tanaka was once again named the Yankees Opening Day starter in 2016 and would go a long way in silencing the doubters about the health of his right ulnar collateral ligament. Tanaka was able to avoid the disabled list altogether in 2016 and finished the season with a 14-4 record and 199.2 innings pitched. Tanaka, fresh off a dominant spring, earned his third consecutive Opening Day nod for the Yankees in 2017. Tanaka struggled for much of the 2017 season, once again leading the doubters to believe that an ulnar collateral ligament surgery would have been the best thing for the Japanese-born right-hander, but then came the 2017 postseason. Tanaka pitched well during the 2017 playoffs for the Yankees, even beating Dallas Keuchel in Game 5 of the ALCS against the Houston Astros, thus giving the Yankees a 3-2 series lead. The Yankees would not win another game during that series, falling just one game short of a World Series.
Tanaka had an opt-out clause written into his contract that would have allowed him to opt out of the final three years with the Yankees, but instead he decided to stay with New York for the remaining three years and $67 million that was left on his deal. Tanaka would lose his Opening Day starts streak in 2018 to Luis Severino, but pitched well regardless in 2018, avoiding the disabled list with any arm and elbow related injuries.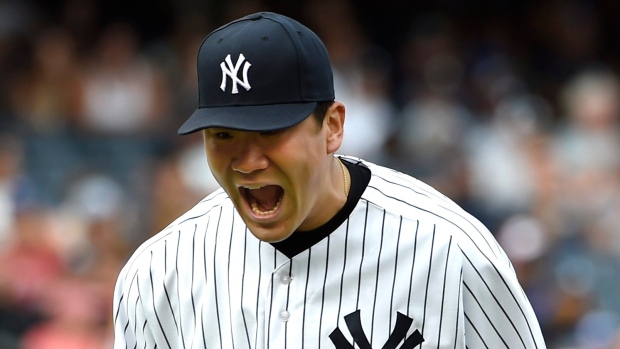 Tanaka also pitched for Team Japan in the 2009 and 2013 World Baseball Classics, while also pitching for the national team in the 2008 Olympics, held in Beijing, China. Now, Tanaka will look to lead the Yankees back to the Promised Land here in 2019 with his first World Series appearance and title. We're rooting for you. Tank!