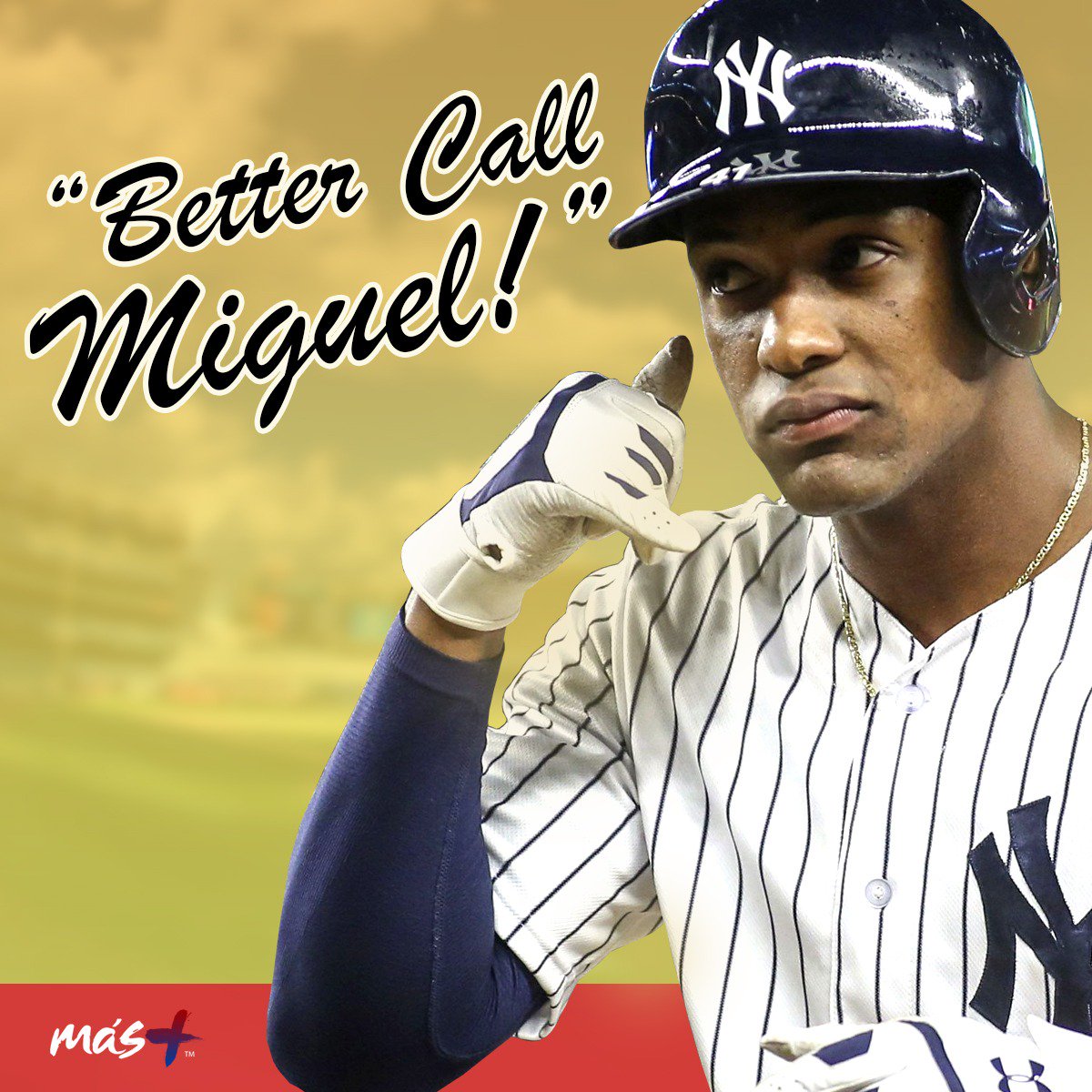 "Call me." Miguel Andujar said that to Gleyber Torres a whole lot throughout the 2018 season, and he presumably hopes to do a lot more of it as we approach the 2019 season. Andujar and Torres made that their "thing" last season, telling the other one to call them if they needed a hit, and Andujar did a whole lot of that last season, leading the powerful Yankees in hitting as a rookie. What will Andujar do for a follow up? Stay tuned, but until then let's get reacquainted with the man that made the Yankees comfortable enough to pass on a generational talent like Manny Machado this winter. Mr. Miguel Andujar.
Miguel Andujar, 23-years old for a few more days, is a right-handed hitting and throwing third baseman in the New York Yankees organization and, to many, the 2018 American League Rookie of the Year Award winner. Andujar is a high-contact guy that doesn't strike out a lot. Andujar puts the ball in play, but it seemed at times that no matter what pitch was thrown, or where it was thrown, that Andujar was going to swing at it regardless in 2018. If Andujar can work on hit pitch recognition a bit and improve his walks he could truly go from a great hitter, to a special kind of hitter. Andujar, 6'0" and 215 lb., is a tough out regardless and is a huge component of the Yankees offense, and the future here in New York. Miguel Enrique Andujar was born on March 2, 1995 in San Cristobal, Dominican Republic where the New York Yankees snatched him off the international free agent market in July of 2011. Andujar destroyed minor league pitching in the Yankees organization and even attended the Arizona Fall League for New York after the 2016 season before being promoted all the way to Triple-A during the 2017 season. Andujar lasted just seven games in Triple-A with the RailRiders before the Yankees called him up to make his MLB debut on June 28, 2017. Andujar spent one game in the majors before being sent back down to Scranton to continue working as a third baseman before being called back up on September 16 as a part of September call-ups.
Andujar went to Yankees spring training camp looking to win the starting third base job in 2018 but was ultimately sent down to Triple-A to start the season after the trade that brought Brandon Drury to the Bronx. Andujar refused to relinquish the job after being called up, this beginning an assault on Major League hitting that included setting the all-time Yankees rookie record for doubles in a season, breaking a record held by some dude named Joe DiMaggio. Andujar finished the season second in the AL Rookie of the Year Award voting behind Shohei Otani of the Los Angeles Angels of Anaheim after putting up a .297/.328/.527 triple slash for New York.
Again, what will Andujar do in his sophomore season? Can he be better than he was in 2018? I think so, but to know for sure you will just have to stay tuned…