I haven't added anything to the blog lately, so let's come out with the smoke. If the Yankees were to acquire Trevor Story from the Colorado Rockies in a trade this off-season he will be better in pinstripes than DJ LeMahieu was. There, I said it.
Now that we got that out of the way, let's analyze. The New York Yankees acquired DJ off the free agent market two seasons ago with the hopes of the right-hander filling in as a super utility player for the Yankees in the infield. No one, except me, expected LeMahieu to break out in the way he did in 2019, and again in 2020, and most of the people who saw this headline probably never even made it this far into the article. I'm not worried about if people agree with me or not, most didn't when I said that Kyle Higashioka not only should, but would, become Gerrit Cole's personal catcher and I was okay with that too. It's not even about being right, it's about what is best for the team. Adding Trevor Story makes this team better, with or without DJ. Keep reading, please.
Like I said two years ago with LeMahieu, Story would benefit immensely from making the shift from the NL West to the AL East Division. Now, before we get too upset again, I will admit that Story most definitely benefitted from playing inside Coors Field, like most who have ever played there, but Coors Field did not make Story the exciting player that he is today. His splits will tell you that he does better as a home player versus what he does as a member of the road team, but what it doesn't tell you is that there are a lot of factors that just don't get included in those splits posted above. What those splits don't tell you is how Story potentially was hurt, production wise, by playing inside parks like Petco Park in San Diego, AT&T Park in San Francisco, etc. It also doesn't show you how Story would actually benefit from not playing 10-15 times in each of those stadiums, while shifting those away games to more hitter friendly environments like Boston's Fenway Park, Baltimore's Oriole Park in Camden Yards, the Rogers Centre (or the Stadium up in Buffalo, NY) in Toronto, and Tropicana Field down in Tampa.
Dimensions, level of talent on each side (imagine having to play the San Diego Padres and Los Angeles Dodgers 30 times a season versus playing the Red Sox, Orioles, Blue Jays and Rays), and the team around him are all kept out of the splits that we see on Baseball Reference.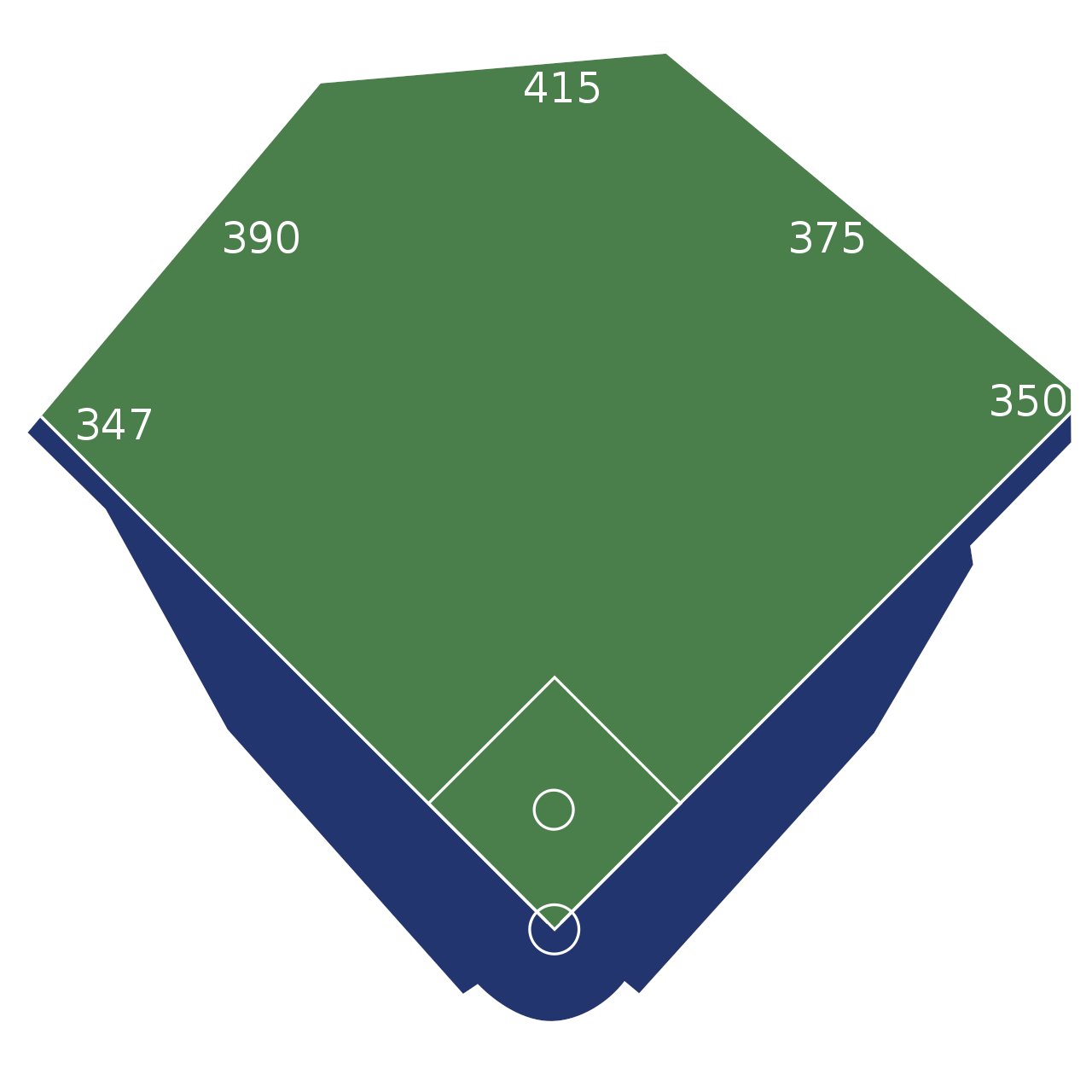 Coors Field dimensions



Instead of focusing too much on what Story could potentially do as a road player for the Yankees inside these stadiums, I prefer to focus on what he could do inside Yankee Stadium. If Story craps the bed in the Bronx, it probably doesn't matter as much what he does against everyone else. Agree? While it is hard to predict what he will do, his spray charts mixed with the overall dimensions of Coors Field vs. Yankee Stadium make it a little easier.
Story, like DJ, sprays the ball all over the field for average and for power. Story, like DJ, would wreak havoc on the short porch in right field given his tendencies to go the other way for power. Story, like DJ, was actually hurt by this while playing in a much more spacious Coors Field. The ball carries more in Coors Field than possibly anywhere else, but it really carries down that right field line in the Bronx as well. Story, like DJ, will benefit much more in the Bronx than he did in Colorado because a lot of those line outs and fly outs will turn into doubles, home runs and scoring opportunities in the Bronx (in a perfect world). Story would give the Yankees another "professional hitter" on the club, although his strikeout numbers are his biggest flaw in my opinion, while also giving the team something they need possibly more so than hitting, and that is defense. Specifically, defense at the shortstop position.
Acquiring Story allows the Yankees to move Gleyber Torres back to the position he is better suited for defensively, the second base position, while allowing Story to slide into the shortstop position. The infield defense is instantly better, but does this mean that this would leave DJ on the outside looking in for the 2021 season? Not necessarily, this is where the "Get Greedy" part comes out of me. In my plan, you acquire Story to allow him to play short and you move Gleyber back to second, but you also sign DJ with the intention of being an "every day" first baseman. Yes, he would move around and wouldn't be containted to only first base, but that would be his position on Opening Day. What does that mean for Luke Voit? Well, listen, I love Voit as much as the next guy, but if the Yankees are looking to trade away from their core in order to keep costs down and fill the gaps needed on the field, he makes the most sense to move on from. Why? Because he has tremendous value right now, his defense at first base is atrocious, and if the Yankees have to choose one strength to trade from it should be from the power department and not from the average-first/professional-type hitters. If the Yankees trade Voit they could still hit 270-280 home runs this season, maybe more with Story if he has a big season, but the team would be more balanced, better defensively, and better overall.
Having an infield defense of Gio Urshela, Story, Torres and DJ behind a pitcher like Luis Castillo or equivalent (Voit included in the trade to keep the prospect cost down) is much better than having an infield defense of Gio, Gleyber, DJ and Voit behind "#2 pitcher" Domingo German, Jordan Montgomery, or whatever dumpster fire pitcher that Yankees GM Brian Cashman tries to sell us on here in about or so. The Yankees could also try and entice the Rockies to include Kyle Freeland (or less likely German Marquez) in the deal by including Louis Vinwood Voit III.
EDIT: Here is a mock trade I threw together rather quickly. While this isn't the trade I necessarily see happening, something similar could go down if this were to come to fruition.
Now, since this post has basically turned into a Story vs. DJ post, which was not intended since I planned on bringing back DJ with or without this potential trade, let's take a look at DJ's final season in Colorado vs. Story's 2019 season with the Rockies (we are leaving 2020 out due to sample size for Story). As you can see, Story outplayed DJ in many key categories during this comparison. While you can't bank on lightning striking twice in the same spot with former Rockies coming over to the Yankees, you can predict it a little better when you know what type of player each player really is. Story, like DJ, uses the entire field and hits for average while taking an ample number of walks. Story will strike out too much and the Yankees faithful will hate that, but that's where the comparison ends. DJ is a lead-off type hitter that loves to jump on a first pitch fastball. Story does his best work if he see's a pitch or two first. Story would hit towards the middle of most lineups, but probably around 6th here in the Bronx. He should hit second and Aaron Judge should hit third, in my opinion, but manager Aaron Boone (or is it Cashman here too?) seems obsessed with keeping Judge in the two hole. Judge has a higher career OBP than Story (Judge's .390 OBP vs. Story's .343), but again we are stuck in a place where one stat doesn't tell the whole story. Judge has seen the likes of Aaron Hicks and Brett Gardner hitting behind him in the 3rd slot just for the sake of having a lefty up there, and while that's not the sole reason for his OBP advantage, it certainly helps. Why pitch to Judge with Brett Gardner on deck? Especially with RISP. You don't. In fact, you should never. Judge can change the game with one swing of the bat, Gardner and Hicks generally don't do that.
My Yankees lineup, not the Yankees lineup that I think would be put out every day, would be this if the team were to acquire Story, re-sign DJ, and trade Voit for pitching:
1B – DJ LeMahieu
SS – Trevor Story
RF – Aaron Judge
DH – Giancarlo Stanton
CF – Aaron Hicks (for the sake of a lefty)
2B – Gleyber Torres
LF – Clint Frazier
3B- Gio Urshela
C – Gary Sanchez
Let me be frank, I don't think this is what the Yankees are going to do. This is merely what I would do as the GM of the New York Yankees. I am not sure what the Rockies would need or want to include Story, or Story plus Freeland/Marquez, but with the Padres and Dodgers stranglehold on the division for a while I would lean towards the team being ready for a "total rebuild." I say that with parenthesis because I find it unlikely that the team will be able to move Arenado in this current economic climate, but at the same time I also don't think the likes of Frazier or other top talent and MLB-ready talent would need to be included beyond Voit. If the Rockies are interested in what many Yankees fans perceive as fringe players on the roster, Miguel Andujar, Mike Ford, Mike Tauchman and Tyler Wade immediately come to mind, then naturally that deal could change, but I am thinking of everyday players only when I say that.
Adding a defensive-minded shortstop that can hit over .300 with 20+ home runs and 90+ RBI a season to an already potent lineup seems unfair. Making the defense exponentially better while allowing the Yankees to trade Voit (and not miss much production, because remember Story's production would somewhat offset what was lost by the exit of Voit) and add the cost-controlled young #2 or even #3 pitcher to match up with Cole… now that's just being Greedy… and I love being Greedy.