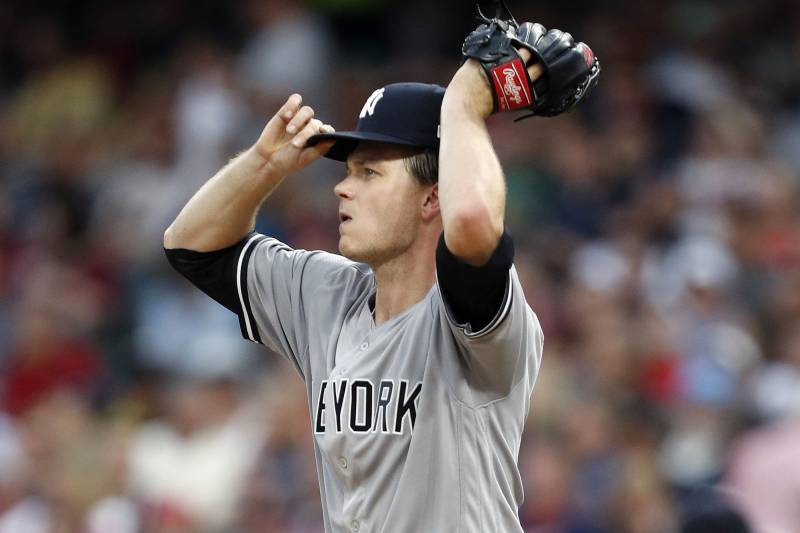 The New York Yankees made quite a few traded this past July 31st trading deadline that included some highly touted prospects inside their farm system. Let's check back in with those prospects one last time and maybe gauge how these trades are going to work out for both teams going forward. Obviously it is way too early to tell on these trades involving prospects but this look can give us all hopefully a detailed first impression of the deals.
The Yankees acquire David Robertson, Tommy Kahnle and Todd Frazier.
The White Sox acquire Blake Rutherford, Ian Clarkin, Tito Polo and Tyler Clippard.
In the weeks leading up to the deal there were many scouts that had their doubts about Rutherford's ability to hit for hard contact and power. Many wondered if the Yankees would be patient with Rutherford or trade him while his value was still high and we all obviously got the answer to that question with this deal. Rutherford has hit .228/.302/.272 with a 72 wRC+ since the trade as of the time of this writing and has still yet to hit for power or hard contact. He's still young and was technically drafted out of High School, although he was a 19-year old player drafted out of High School, so the sky is still the limit on this kid but it seems as though the Yankees may have gotten the better end of that deal as of right now. Three years from now we could be talking about the worst trade in the Brian Cashman era. You can't predict baseball.
Clarkin made two whole starts for his new team before a strained oblique landed the lefty in a familiar place, on the disabled list. Clarkin pitched a whole eight innings for the White Sox and pitched to a 6.04 FIP in an extremely small sample size. Different name, same story for Polo who has only managed 79 plate appearances for the White Sox before landing on the disabled list. Polo will represent the White Sox in the Arizona Fall League though because when he was healthy he did produce a .278/.342/.389 and 113 wRC+ batting line.
Finally the curious case of Tyler Clippard. Clippard was terrible in the Bronx, he rebuilt some of his stock with the White Sox and was ultimately flipped to the Houston Astros in a second trade this season. Since joining Houston, again at the time of this writing, Clippard has been back to his old ways posting a 7.71 ERA and 4.85 FIP with Houston but he may ultimately get a World Series ring out of it regardless so I doubt he's too bothered by it. Clippard looks a lot like the pitcher we saw in New York and a lot less like the guy who had a 1.80 ERA with the Chicago White Sox.
The New York Yankees acquire Jaime Garcia and cash considerations.
The Minnesota Twins acquire Zack Littell and Dietrich Enns.
The Yankees basically got Garcia for free in terms of dollars and cents but not in terms of prospects as the team had to part with a pair of minor league pitchers in the deal. Neither pitcher really fit in with the Yankees long term plans to be completely honest although Enns could have been a bullpen piece for the team going forward. Enns did make his MLB debut this season pitching 2.1 innings allowing two runs on five hits. Shortly after the rough outing in which he labored heavily through his two-plus innings Enns was placed on the disabled list with a should injury. Enns is currently pitching in minor league rehab games and could be a September call up for Minnesota.
Littell has pitched well for the Double-A Chattanooga Lookouts pitching to a 2.81 ERA and 3.51 FIP in seven starts. Littell does not fit the mold that the Yankees have seemingly fallen in love with since he is a soft-tossing left-hander but Littell has pitched well in every stop he has made throughout his minor league career so this one may be a hard loss to look back on in three-to-four years.
The New York Yankees acquire Sonny Gray.
The Oakland Athletics acquire Jorge Mateo, Dustin Fowler and James Kaprielian.
The big one, the trade that made the Yankees the Yankees again. The trade that sent three big prospects to the Athletics for right-handed pitcher Sonny Gray. Mateo was obviously the centerpiece of the deal and has hit .283/.328/.480 with two home runs for the Midland Rockhounds. Mateo is striking out at nearly a 23% clip but has played nice defense and has been a nice pickup for Oakland overall.
Both Fowler, knee, and Kaprielian, Tommy John surgery, have suffered season-ending injuries and will not play for Oakland this season. The A's had their eyes on the future though when they made this deal while New York had their eyes on the present, 2018 and 2019. This deal could be one of those deals that ultimately work out equally as well for both teams given time.