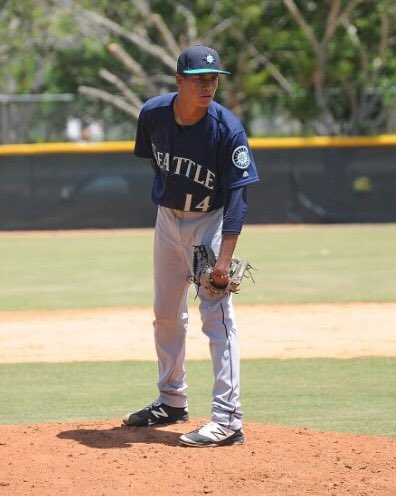 We have already met this young man's former teammate with the Seattle Mariners in JP Sears so let's meet the other arm that the New York Yankees acquired in a trade this week when they sent Nick Rumbelow and his 40-man roster spot west. His name is Juan Then, imagine the "Then and Now" jokes this guy is going to have to endure as he climbs the ranks within the Yankees system, and he is an arm that I am personally really excited to watch grow and progress. This is Meet a Prospect: The Juan Then and Now Edition.
Then is just 17-years old and was signed as an international free agent by the Seattle Mariners back on July 2, 2016. Now before writing this post I knew absolutely nothing about Then but I do know that the best of the best in terms of international free agents tend to get signed immediately as the international signing period opens up annually on July 2. Then signed as a 16-year old, usually another sign that the prospect has shown potential, in 2016 for just $77,000.
Then made his professional debut in 2017 in the Dominican Summer League posting a 20-2 record with a 2.64 ERA. Then made 13 starts for the DSL Mariners striking out 56 batters in 61.1 innings while holding opposing batters to just a .220 batting average against which was good for a 1.06 WHIP.
Then has a pitcher's build standing at 6'1" and weighing in at 155 lbs. as a right-handed starter. Then has a lot of time and a lot of room to grow into his frame as he matures and gets older, which is scary when you consider that Then is already throwing in the low 90 MPH range with his fastball. Then also has a changeup and a second breaking ball that he will have to develop if he wants to be a starting pitcher long-term with the team.
Then has a lot of potential to be a great arm and addition for the Yankees and I personally look forward to watching him progress over the course of the next few seasons. Welcome to the organization, Juan, and also welcome to the Yankees family.