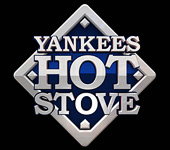 Good morning Yankees family and welcome back to the blog. We are going to shift our focus here on the blog a bit going forward now that the 2018 MLB First Year Players Draft is done, and the hot stove and international free agent seasons begin. We will still cover prospects drafted by the Yankees in our Meet a Prospect series, but we will only cover players that have agreed to sign with the Yankees. We will also begin covering the 2018-2019 international free agent signing period that begins on July 2 as well as the hot stove season that is on tap for the rest of this month and into July.
I want to expand my horizons just a little bit this season and not only predict the trade deadline for the New York Yankees, but maybe for all 30 teams. As much as I can anyway. It should be challenging, but it should be fun as well, and that is what it is all about. So, stay tuned for that as I begin to work on that this week.
And you, prepare to be my wife because in less than a year all your dreams will finally become a reality. I love you my sweet and gorgeous Kari Ann, I always have, and I always will.