My apologies for kind of a long title to the thread but I didn't know how else to word it. The focus of this post will be to dissect the package of five prospects the Los Angeles Dodgers gave up in the deal for Manny Machado of the Baltimore Orioles and compare those prospects to the Yankees prospects and try to find a similar deal. The deal is done for Machado and this won't change a thing, but I think it would be fun to look at an equivalent, or as close as we can get to anyway, package that the Yankees would have had to surrender if they were to have matched the deal for Machado.
The Dodgers surrendered 21-year old outfielder Yusniel Diaz, 22-year old infielder Rylan Bannon, 22-year old RHP Dean Kremer, 21-year old RHP Zach Pop, and 26-year old second baseman Breyvic Valera. According to MLB Pipeline Diaz was the 84th best prospect in all of Major League Baseball and the team's 4th best prospect overall. Meanwhile Bannon was the team 27th best prospect while Kremer was ranked 28th by MLB Pipeline here in 2018. Pop and Valera were not ranked previously. Before we truly assess which Yankees prospects compare to these Dodgers prospects we have to meet the young men that are now wearing various uniforms within the Baltimore Orioles organization and minor league affiliates.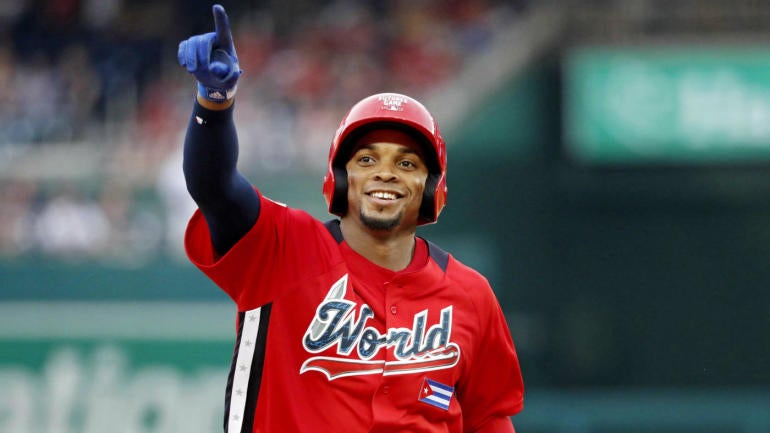 Diaz was the headliner of the deal and immediately becomes the top prospect in the Orioles farm system. Diaz earned a grade of 55 across the board with his hitting, speed, arm and defense tools according to scouts while his power keeps him from being a true five-tool player. Diaz has played center field throughout the majority of his minor league career, but many scouts suggest that his future is in a corner outfield spot, namely right field. At the time of the trade Diaz was hitting .314/.428/.477 with six home runs, eight stolen bases and more walks than strikeouts at the Double-A level.
If I were to take a stab at a comparison prospect for the Yankees I would have to go with Billy McKinney. I know many compared Diaz to Estevan Florial, but I cannot make that leap of faith. Florial is the top prospect in a much better Yankees farm system (6th overall by MLB Pipeline) whereas Diaz was just the fourth best within the Dodgers organization (10th overall in MLB according to MLB Pipeline). Also, Florial is ranked 37th overall in baseball according to MLB.com while Diaz was just 84th. McKinney is more MLB-ready than either man and was ranked as the Yankees 16th best prospect overall in a very top-heavy system. To be honest I would be willing to swap out Florial for comparisons purposes over McKinney, but I stand by my thought process that McKinney is a closer comparison to Diaz than Florial at this point in their young careers.
Pinstriped Prospects credit image
Bannon profiles as a defensive third baseman at the Major League level that could have enough of a bat to keep him on a major league roster. At the time of the trade Bannon was batting .296/.402/.559 in Double-A but comes with a troubling strikeout total at the plate. Bannon does walk a lot though which is evident by his 14.6% walk rate, which is sometimes enough in the era of sabermetrics. Bannon was the 250th pick overall in the 2017 MLB First Year Players Draft for the Dodgers and in my opinion would closely compare to the Yankees Dermis Garcia. Garcia is listed as a third baseman and a first baseman by MLB Pipeline and is currently residing in Charleston with the Riverdogs.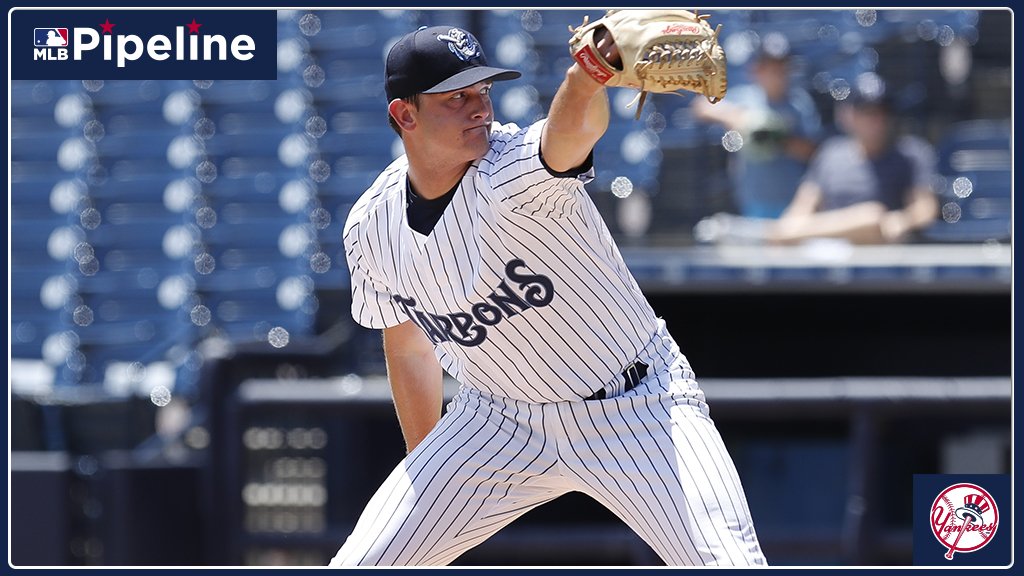 Kremer was the Dodgers 28th best prospect right behind Bannon according to MLB Pipeline and heads into Baltimore with a 94 MPH fastball with horizontal movement, a curveball and a developing slider and changeup. Kremer had issues in the past but has enjoyed a breakout 2018 season of sorts posting a 3.30 ERA and a 12.99 K/9 ratio in High-A Rancho Cucamonga this season. Many scouts believe that he will be able to stick as a starter with his recent success which warranted him a promotion to Double-A with the trade. Kremer reminds me a lot of a RHP the team took in the 2017 MLB First Year Players Draft who also recently reached Double-A, Garrett Whitlock. Whitlock is the Yankees 26th best prospect according to MLB Pipeline and seems to be on the fast track after being drafted a little over a calendar year ago.
Pop profiles more as a reliever at the Major League level due to a low strikeout rate throughout his minor league career. Despite having a 7.67 K/9 ratio with the Dodgers he has managed to post a 0.33 ERA in 27 innings at High-A in 2018. Pop has been lucky, his BABIP and 95% strand rate suggests that, but he also commands a sinker that can hit 97 MPH that shows at least a bit of upside. The Yankees have another arm that may profile as a reliever if he were to reach the Major League level that I believe is comparable to Pop, his name is Giovanny Gallegos. Gallegos probably ranks a lot higher than Pop, Gallegos is on the Yankees 40-man roster and is their 19th best prospect in the farm system but is unlikely to stick with the MLB any time soon with many top-level arms ahead of him on the depth chart. If the team could move him now while clearing a 40-man roster spot for Machado in the process I think it truly makes sense for both clubs.
The final piece, Valera, is a journeyman who has spent seven years in the minor leagues with the St. Louis Cardinals alone before coming over to the Dodgers. While in St. Louis, Valera made his MLB debut with the team spanning 11 plate appearances before being traded to Los Angeles for Johan Mieses. Valera made 34 plate appearances with Los Angeles this season amassing just five hits while striking out and walking four times each. Valera is an MLB-ready infielder that compares a lot to Tyler Wade, although again like the instance with Gallegos I believe the Yankees would actually be overpaying with Wade over what the Dodgers sent to the Orioles in this deal.
It is worth mentioning that Valera was immediately assigned to Triple-A after the deal was made official while the remaining four prospects were all assigned to the Orioles Double-A affiliate. Keeping that in mind the closest I could come up with for a comparison package for the Yankees would be Billy McKinney, Garrett Whitlock, Dermis Garcia, Giovanny Gallegos, and Tyler Wade.
Would I make this deal for a true rental in Machado? Honestly, I probably would, but that goes against everything I have ever done in my prospect humping career. Although, it is the greediest thing the Yankees could have done, to date, this hot stove season. I'm torn, but if Baltimore asked for that package for Machado and I were the Yankees GM, well Machado would be wearing pinstripes and Alex Rodriguez's #13 tonight. Oh well, water under the bridge.