The New York Yankees line of thinking is this (and of course I am speculating here) when it comes to acquiring or not acquiring generational talent like Manny Machado or Bryce Harper this offseason. The Yankees already feel like they have some generational talent of their own in Aaron Judge, Luis Severino, Gary Sanchez, and the man we are prepared to meet again this afternoon, Giancarlo Stanton. Will Stanton improve on, all things considered, what was a pretty damn good first year in pinstripes? Well, you will just have to stay tuned to find that out.
Giancarlo Stanton, 29-years old, is a right-handed and throwing outfielder and designated hitter for the New York Yankees that will likely split his time between left field, right field, and DH here in 2019. Stanton, all jokes aside about his closed stance, is a steady hitter that is capable of hitting .300 while also smashing 50 home runs a season if he ever learns to lay off pitches low and outside the strike zone. Giancarlo is prone to the strikeout, but when he makes contact it goes a long way, hard and fast.
Giancarlo Crus Michael Stanton was born on November 8, 1989 in Panorama City, California to father Michael Stanton and mother Jacinta Garay. Stanton attended Verdugo Hills High School in Tujunga, California for two years before transferring to Notre Dame High School in Sherman Oaks, California where he was a three-sport athlete and caught the eye of the Miami Marlins. Giancarlo had previously accepted a scholarship to Tulane University while also turning down offers from UCLA, UNLV and USC to play football, but ultimately decided to sign with the then Florida Marlins who selected Stanton in the second round, 76th overall, in the 2007 MLB First Year Players Draft. Stanton signed with Florida for a modest $475,000 signing bonus and began his professional career in the Gulf Coast League with the Gulf Coast League Marlins.
By 2009, Stanton had already begun receiving invites to Marlins spring training camp. Stanton participated in the 2009 All-Star Futures Game as well as the Arizona Fall League after the 2009 season. Stanton began the 2010 season back in Triple-A, but he wouldn't stay there for long as the Marlins called Giancarlo up on June 6, 2010, making Stanton the third youngest player to ever make his MLB debut for the Marlins. Giancarlo finished a strong rookie campaign by being named to the 2010 Topps Major League Rookie All-Star Team and to Baseball America's 2010 All-Rookie Team. Stanton struggled in his sophomore season, though, dealing with leg and eye injuries throughout the season that limited him to just 516 at-bats. Stanton would bounce back in 2012 and post an All-Star season that would include a trip to the Home Run Derby. Stanton missed both events with knee surgery, though, but Stanton still finished the season with 37 home runs and a .290 batting average. Another season for Stanton in 2013, and another injury riddled season for the young outfielder. Stanton participated in the World Baseball Classic in 2013, representing Team USA, but missed six weeks due to a Grade 2 hamstring injury, limiting him to just 116 games.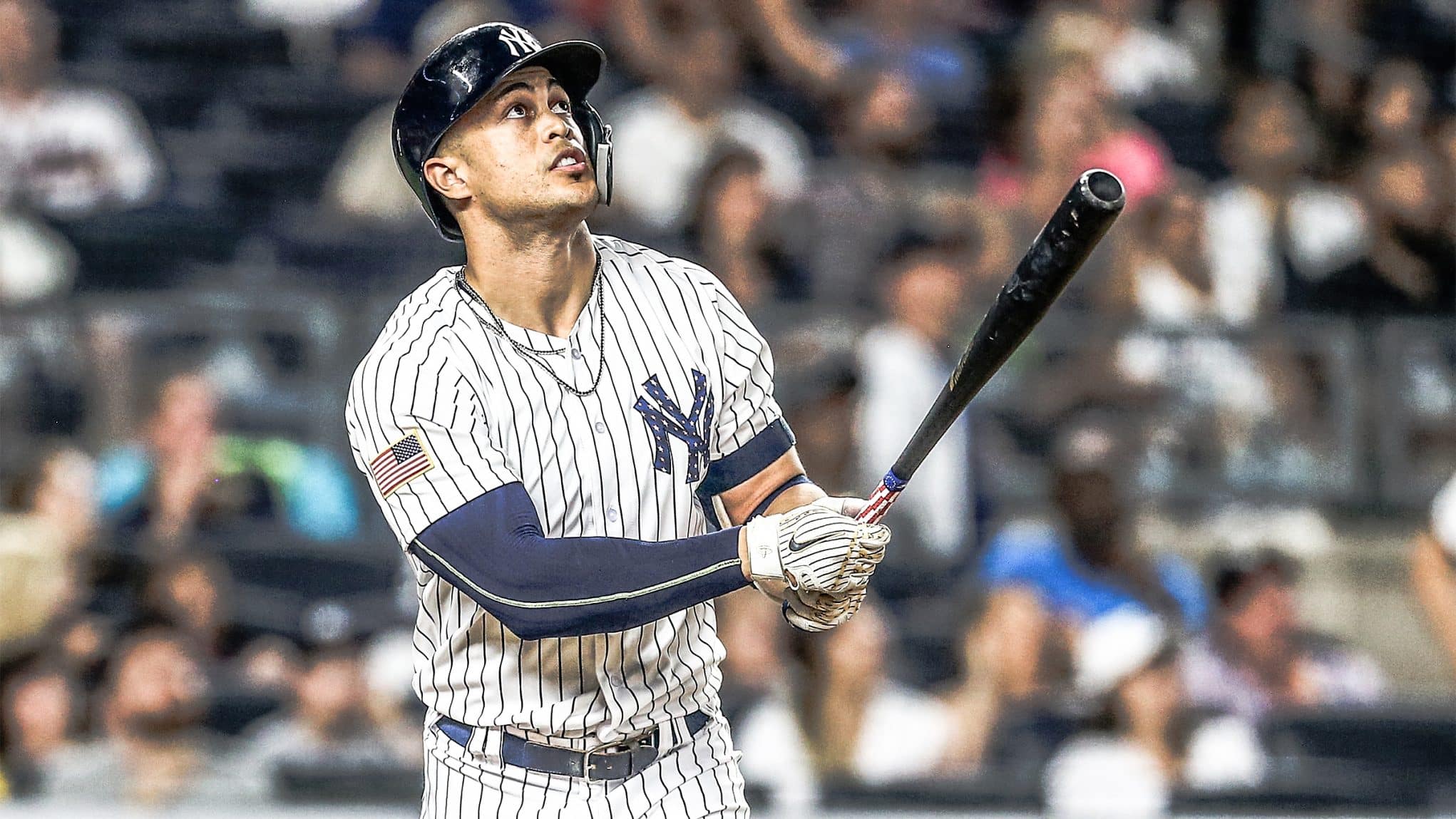 Stanton returned to his All-Star form in 2014, finishing the season with a .288 average with 37 home runs and 105 RBI to go along with 94 walks, a .555 slugging percentage and a .950 OPS. Stanton finished second in the NL MVP Award voting to Clayton Kershaw. After the season the Marlins gave Giancarlo a 13-year deal worth $325 million, the most lucrative contract in sports history, that also included a no-trade clause and an opt-out written into the contract after the 2019 season. Stanton had another injury riddled season in 2015, but yet another All-Star season as well, seeing his season end prematurely after breaking his hamate bone in his hand. Stanton had 27 home runs in just 74 games at the time of the injury. Stanton was not selected to the All-Star Game in 2016, but he did decide to participate in the Home Run Derby. Stanton hit 61 home runs in the Derby and took home the championship, en route to a great season that ended, once again, in injury.
Giancarlo looked to remain healthy and steady in 2017 and did just that for the first full season of his career. Giancarlo would win the National League MVP Award in his final season with the Marlins, posting an impressive stat line that included a .281 batting average, 57 home runs and 132 RBI. After the season, and under new management, the Miami Marlins decided they could no longer afford the massive contract that they gave Stanton just three years prior and decided to trade the face of their franchise. Miami agreed to a deal that would have sent Stanton to the St. Louis Cardinals, but Stanton refused to waive his no-trade clause and shot down the deal. Days later the Marlins agreed to trade Stanton to the San Francisco Giants, but once again Stanton refused to waive his NTC and killed any possibility of a deal. Third time was the charm for the Marlins, though, as the team agreed to send Stanton to the New York Yankees along with cash considerations for second baseman Starlin Castro and prospects Jorge Guzman and Jose Devers.
Stanton would hit a home run in his first at-bat for the Yankees and would finish his first season in the Bronx with a .266 average in 158 games played, notching 38 home runs, 34 doubles, and 100 RBI. Stanton would help lead the Yankees to 100 wins during the regular season and a victory in the AL Wild Card Game over the Oakland Athletics. Unfortunately, the Yankees season would end prematurely in the ALDS against the Boston Red Sox, but all-in-all you have to think that Stanton had an extremely successful first season in the Bronx. It gives you a lot of hope when you think about what we as a fan base could be in store for here in 2019. Good luck, Giancarlo!