Man, it was not easy to find information on Yankees right-handed pitcher Joe Harvey, but we did the best we could. In all actuality, I am glad that this was a challenge and that there wasn't the plethora of information on the web about him like there was with others, that means when others head out looking for information on him later in the spring and throughout the season that maybe they will stumble upon the site and stay awhile. Let's meet the man, the myth, and hopefully soon-to-be the legend, Mr. Joe Harvey.
Joe Harvey, 27-years old, is a right-handed relief pitcher currently in the New York Yankees organization. Harvey is a large, intimidating presence on the mound standing 6'2" and weighing in at 235 lbs. Harvey throws a mid-90's fastball with a high spin rate to go along with a curveball that he worked on for much of the winter trying to improve. Harvey also throws a changeup that he has also dabbled with a lot this winter in search of improvement.
Joseph Robert Harvey was born on January 9, 1992 in Audobon, Pennsylvania and attended high school at Kennedy-Kenrick Catholic High School in Norristown, PA. After graduating High School, Harvey moved on to play baseball at the collegiate level for the University of Pittsburgh where he caught the eye as a pitcher of the New York Yankees. The New York Yankees drafted Harvey in the 19th round of the 2014 MLB First Year Players Draft out of the University of Pittsburgh and immediately assigned him to the GCL Yankees. Harvey spent time there and with the Staten Island Yankees in 2014 before being promoted to the Charleston Riverdogs for the 2015 season.
Harvey took a step back in 2016, heading back to the GCL to play for both Yankees affiliates there as well as the Staten Island Yankees. Harvey was promoted to the Tampa Yankees in 2017 before finally reaching Double-A, and then Triple-A during the 2018 season. Harvey was added to the Yankees 40-man roster prior to the 2019 season and also participated in the Dominican Winter League as well as he prepared for the possible call to the Major Leagues this season.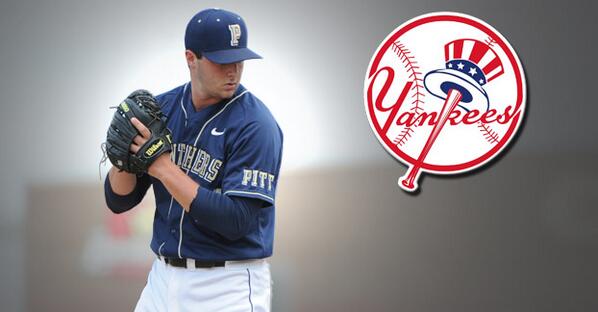 Good luck to you, Joe. You already struck out Troy Tulowitzki in a simulated game this spring, and that's not nothing if you ask me. Injuries slowed Harvey's path towards the majors, the right-hander was limited to just 41 games as a reliever from 2014-2016 and just 18 games in 2017 but took off and showed glimpses of what he could become for the Yankees in 2018.