For whatever reason it feels like Thairo Estrada has been around forever with the New York Yankees. It is hard to believe that Thairo is still just 22-years old, but it's true. It's also hard to believe that Thairo survived a gunshot wound in the hip during a robbery attempt in January of 2018, but that's another story for another blog post. Let's meet the man that will look to finally crack the Major League roster here in 2019, Mr. Thairo Estrada.
Thairo Estrada, 23-years old with a Happy Belated birthday from us here at TGP, is a right-handed throwing and batting infielder that has experience as a second baseman, shortstop, and third baseman as a professional player. Estrada has a small frame, standing just 5'10" and weighing just 185 lbs., but he will take his walks and hit for average if he's healthy and right, physically.
Thairo Jose Estrada Villegas was born on February 22, 1996 in Bejuma, Venezuela where he was signed as an international free agent back in August of 2012. Estrada made his professional debut with the club's Gulf Coast League team in 2013 and spent the whole season there. Estrada returned to the GCL Yankees in 2014 but was quickly promoted to the Staten Island Yankees. Estrada returned to the New York-Penn League and the SI Yankees in 2015, but again earned a promotion to the Charleston Riverdogs and the Tampa Yankees by the time the 2016 season came along.
Estrada was promoted to the Trenton Thunder in 2017 and was an Eastern League All-Star in Double-A, finishing the season with a .301 batting average with six home runs and 48 RBI. Estrada was added to the Yankees 40-man roster following the season.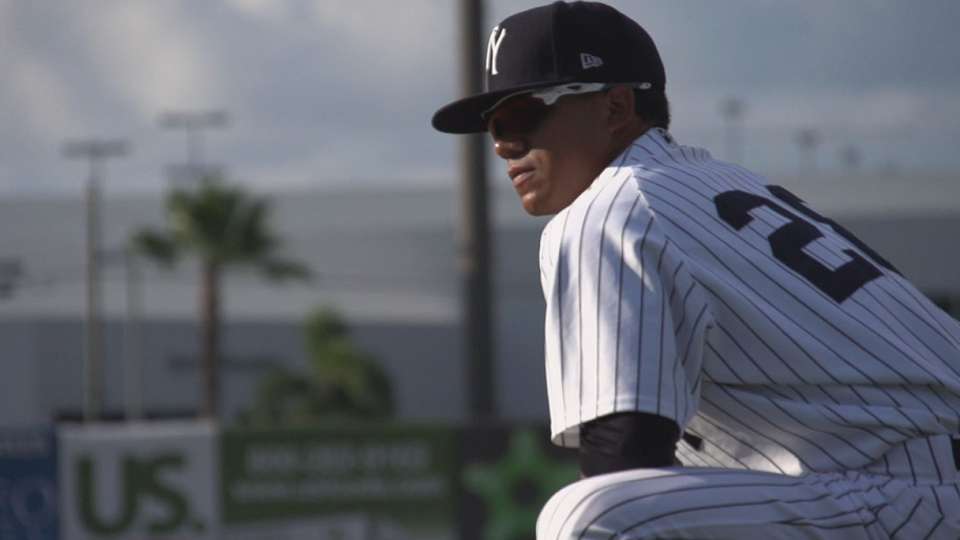 Estrada was shot in the hip during a robbery attempt before the 2018 season and was limited to just 18 games and 78 at-bats between Triple-A and the Tampa Yankees of A+ ball. Estrada also went to the Arizona Fall League following the 2018 season and played in 19 games there with Glendale.
Estrada will look for another productive and healthy season in 2019 and will also hope for his ultimate shot at the Major League level. Estrada is ready, make the call.