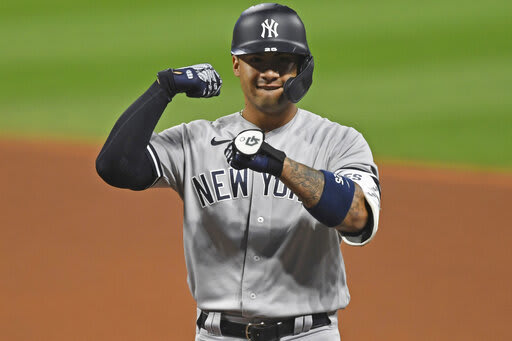 The New York Yankees offense was not afraid of 2020's presumptive American League Cy Young Award winner, so should they be afraid of Carlos Carrasco tonight in Game Two? In a word, no. Here's why!
The New York Yankees generally struggle against pitchers that they are seeing for the first time, it doesn't make sense but it is definitely a thing for this team. The good news tonight is that the Bombers have seen Carrasco plenty, to the tune of the stats below provided by ESPN:
New York Yankees Career Statistics Vs. Carlos Carrasco
Is that a huge sample size? Unfortunately not, but it is better than nothing. With the above, do the Yankees start Clint tonight or do they start Gardner? Originally, my thought process was that Clint would get the start, but that was before Gardy's big game last night against Bieber and the Indians.
Carrasco has made 12 appearances, nine of them starts, in his career against the Yankees and currently owns a 5-5 record with a 4.04 ERA. Carrasco has allowed eight home runs to the Bronx Bombers over that span with a 1.204 WHIP. Carrasco will get his strikeouts against this team, he has struck out Yankees batters 60 times in 55.2 innings pitched against them while drawing just 15 walks. That's not what you want to see, but ultimately I think the Yankees offense should be fine.
Remember, Carrasco is not the same pitcher he was just two-or-three seasons ago, he is a shell of his former self. A lot of this gaudy strikeout numbers came while Carrasco was at his peak, and Carrasco has since fallen from that level due to injury. Carrasco's 3-4 record, 1.206 WHIP and 1.6 WAR, while good, are not what he was in 2017 and 2018. 2017 and 2018 were his Cy Young contending years, while he has stepped back each of the last two seasons.
Bieber scared me a little last night, although I wasn't worried, but Carrasco really doesn't. I'm not looking past Carrasco by any means, but I am confident that the Yankees will close out this series with a victory tonight. See you in the ALDS.