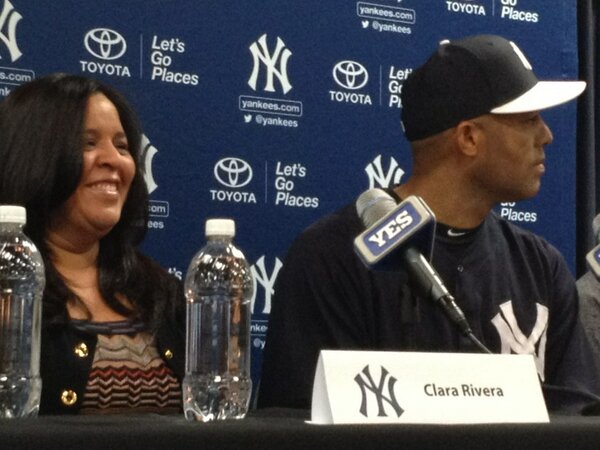 Mariano Rivera officially announced that the 2013 season will be his final season in pinstripes and in baseball. He stated that he would have absolutely retired after the 2012 season had it not been for the ACL injury back in May of 2012 that cost him the season. Mo states that the "tank is empty, not for pitching but for traveling and hotels" and who could really blame the 43 year old closer. Mariano Rivera has nothing left to prove in baseball and in life and I am glad that he gets to go out his way.
Here is what Jorge Posada had to say about Mariano Rivera at the press conference:
"There is only one Mariano Rivera. There won't be another person who will come along and do what he did. No one does it like him. It was an honor to catch him and play alongside him for as long as I did. He made my job as a catcher so much easier. Mariano is a special person and obviously a special player.
I'm so happy he is going on on his terms. Now every time he steps into a ballpark this year, teams and fans can celebrate and appreciate what he has meant to this great game we play."
Mariano Rivera thanked the fans and told them he loved them before the press conference was over but I believe we are the one that owe you the gratitude and the thanks and the love Mo. you have done more for us and this team that we love than anyone ever could. There will never be another Mariano Rivera and that is a damn good thing too. Again thank you Mo and good luck in all your endeavors in the 2013 season and beyond with your wife Clara and your beautiful family.
#ExitSandman #1MoRing #28forMo