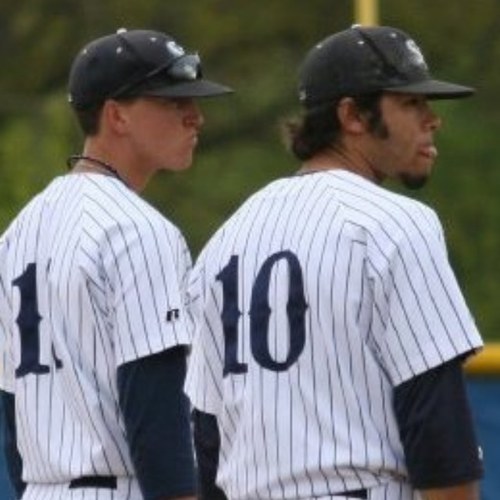 Today as a part of Prospects Month we bring you an interview with Yankees minor league pitcher Conor Mullee. Mullee is a member of the Staten Island Yankees in the New York Penn League and is the short season affiliate of the Yankees. Enjoy this interview that Conor was so gracious to do for us on Twitter.
The Greedy Pinstripes: Conor! How are you sir? How is the offseason going?
Conor Mullee:
Hey, everything is going well. Got down to Tampa last week, getting ready for the season.
TGP: Will you be sporting the Mohawk for the 2014 season?

CM: Haha I sported the Mohawk for my Senior game in college, won't be going back to that anytime soon.
TGP: How did your fantasy football team do this year? I saw you were a big NFL and fantasy fan.
CM:
Ended up 9-5 in the reg. season and grabbed the 3 seed in my keeper league. Lost 1st round of the playoffs tho and ended up 3rd
TGP: Did you play any other positions coming up?
CM:
I was a shortstop my whole career in college and did not start pitching until my senior year. Only threw 6 innings in college.
TGP: What are you doing this offseason to improve on your 2013 season?
CM:
I am just doing my regular rehab and lifting routine. Arm feels great and hopefully I can be ready for the start of the season.
TGP: What do you do during the offseason to keep yourself occupied?
CM:
This past offseason I started pursuing my masters in sports management so that was taking up a lot of my downtime. Got to have a plan B.
TGP: What are you listening to right now?
CM:
Right now I am listening to Peyton Manning yell "Omaha" as I watch the AFC championship game in my hotel room. I love watching the NFL!
Sad my Ravens had a down year.
TGP: Favorite restaurant to eat at?
CM:
I love Chipotle. When I am trying to decide on what to eat, Chipotle is always one of my top options.
TGP: Do you have a girlfriend or wife at home?
CM:
Yes, I have a girlfriend back home. She is very supportive of me and my dream of becoming a Major League Baseball player.
TGP:
What current Major League player do you think you compare to the most?
CM:
I don't really know who I compare to in the MLB. Someone who has been through a lot to get to where they are.
Having had three elbow surgeries this quick, I don't know if there are many guys in the MLB with a situation like mine.
TGP: I know you probably don't think of things like this but how long before you think we could see you in the Major Leagues? I have your ETA down as late 2017, is that accurate?
CM:
I really don't know what the future could be for me. I have to stay healthy first and I am hoping that 2014 can be the first of many
healthy seasons.
TGP: If you could be the Yankees GM for a day what would you do? Don't have to really be realistic here.
CM:
If I were the Yankees GM what would I do? I would try to build the best team that I could to compete for a championship year in
and year out and I think they do a great job of that already.
TGP: Most famous person in your cellphone?
I don't really have any famous people in my cell phone. Hopefully some of my buddies in the organization make it to the MLB and
make my contact list a little more exciting.
TGP: Most embarrassing song in your iPod?
CM:
Hmm most embarrassing song on my ipod. I have a few Britney Spears songs on there so I would have to assume one of those haha
TGP: We'll finish with this one, where do you see yourself in life and your career in five years?
CM:
In five years, I hope to still be pitching within the New York Yankee organization because it is the best organization in the world.
You can follow Conor on Twitter by following @cmullee11. We want to thank Conor for taking the time out of his busy NFL watching and Chipotle eating schedule to do this interview for our readers. We appreciate it and we know our readers do too. We wish you nothing but luck and success in your life and in your baseball career going forward. Thank you again Conor!