Jack Roosevelt "Jackie" Robinson was born on January 31st, 1919 in Cairo, Georgia. Jackie was the youngest of five children born to Jerry and Mallie Robinson and had siblings Edgar, Frank, Matthew, and Willa Mae Robinson. Jackie's middle name was given to him in honor of President Theodore Roosevelt who dies 25 days before Jackie was born. Jackie's father would leave his family in 1920 and his mom moved him and his four siblings to Pasadena, California. Jackie would start his high school career at John Muir High School where he played football, basketball, track, and baseball where he would letter in each at the varsity level. He was a shortstop and a catcher for the baseball team and earned a place on the Pomona annual baseball tournament all-star team. This annual baseball tournament included future Hall of Famers like Ted Williams and Bob Lemon. Jackie was also the quarterback on the football team and played guard for the basketball team. Jackie would get some recognition by professional scouts after winning an award in the broad jump in track and field. Jackie was also a member of the tennis team in his high school years. In 1936 Jackie won the junior boys singles championship in the annual Pacific Coast Negro Tennis Tournament. In 1937 the Pasadena Star News newspaper reported that Robinson has been the most outstanding athlete at Muir for starring in five sports for the school.
Jackie would move on to Pasadena Junior College after graduating from Muir High School where he continued his athletic career by playing basketball, football, baseball, and track once again. On the football team Jackie played both sides of the ball this time playing quarterback and also playing some safety on the defense. He would be the leadoff man for his baseball team while manning the short stop position. He would once again get recognition in track for his broad jumping ability after breaking school records in the competition previously held by his brother Matthew, whose nickname was Mack. While playing on the football team Jackie suffered a fractured ankle which would complicate his deployment status while he was in the military. Jackie would also be elected to the Lancers at his time in Pasadena Junior College which is a student run police organization responsible for patrolling the school grounds during various school activities. In 1938 Jackie was elected to the All Southland Junior College Baseball Team and was selected as the regions MVP in that league. Also in that season Jackie was one of ten students named to the school's Order of the Mast and Dagger which was awarded to students who performed outstanding service to the school and whose scholastic and citizenship record is worthy of recognition. In 1938 he was arrested after getting into a shouting match with the police and received a two year suspended sentence. This was the beginning of the reputation of being very combative when it came to racial antagonisms and such. Frank Robinson, Jackie's closest brother, dies in a motorcycle accident towards the end of his PJC career which prompted him to transfer to the University of California, Los Angeles (UCLA) to be closer to his family.
Jackie transferred to UCLA in the spring of 1939 where he became the school's first athlete to win varsity letters in four sports, which were baseball, basketball, football, and track. He was one of four black players in the 1939 UCLA Bruins football team and was one of three of the four backfield players on the football team. In 1940 Jackie won the NCAA Men's Outdoor Track and Field Championship in the long jump when he jumped 24 ft 10 1/4 inches. Baseball was surprisingly considered his worst sport in his time spent at UCLA after hitting .097 in his only season there, although in his first game he did for 4-4 with two steals of home. In his senior year at UCLA Jackie would meet his future wife Rachel Isum who was a freshman and was familiar with his athletic career at Pasadena Junior College. In 1941 Jackie left college just shy of graduation and took a job as an assistant athletic director with the National Youth Administration in Atascadero, California. Later that year the government stopped the NYA and Jackie found himself in Honolulu to play football for the Honolulu Bears. Jackie would try and latch in later in that year with the Los Angeles Bulldogs of the Pacific Coast Football League but by that time the Japanese attack on Pearl Harbor had drawn the United States into World War II, thus ending Jackie's football career.
In 1942 Jackie was drafted into the military and assigned to an Army cavalry unit in Fort Riley, Kansas. After much protesting Jackie Robinson was admitted into the Officer Candidate School at Fort Riley which would bring Jackie and heavyweight boxing champion Joe Louis closer as friends. Robinson was promoted to second lieutenant and was reassigned to Fort Hood, Texas where he joined the 761st Black Panthers Tank Battalion. On July 6th, 1944 Jackie's military career would take a turn for the worse as he was in the hospital awaiting test results on the ankle he injured in junior college. Jackie would board an unsegregated bus afterwards and was ordered to move to the back of the bus, although he refused and was taken into custody by the military police when he reached his destination. After confronting the investigating officer about being racist Jackie was recommended for a court martial. Robinson was not court martialed but transferred to the 758th Battalion where he was charged with multiple charges including public drunkenness, although Jackie was never known as a drinker. Jackie was acquitted of all charges by an all-white panel of nine officers but Jackie still missed being deployed overseas and never saw any combat action. Jackie would receive an honorable discharge in 1944 but not before meeting a former player for the Kansas City Monarchs of the Negro American League who encouraged Jackie to try out for the Monarchs, which he did in 1945.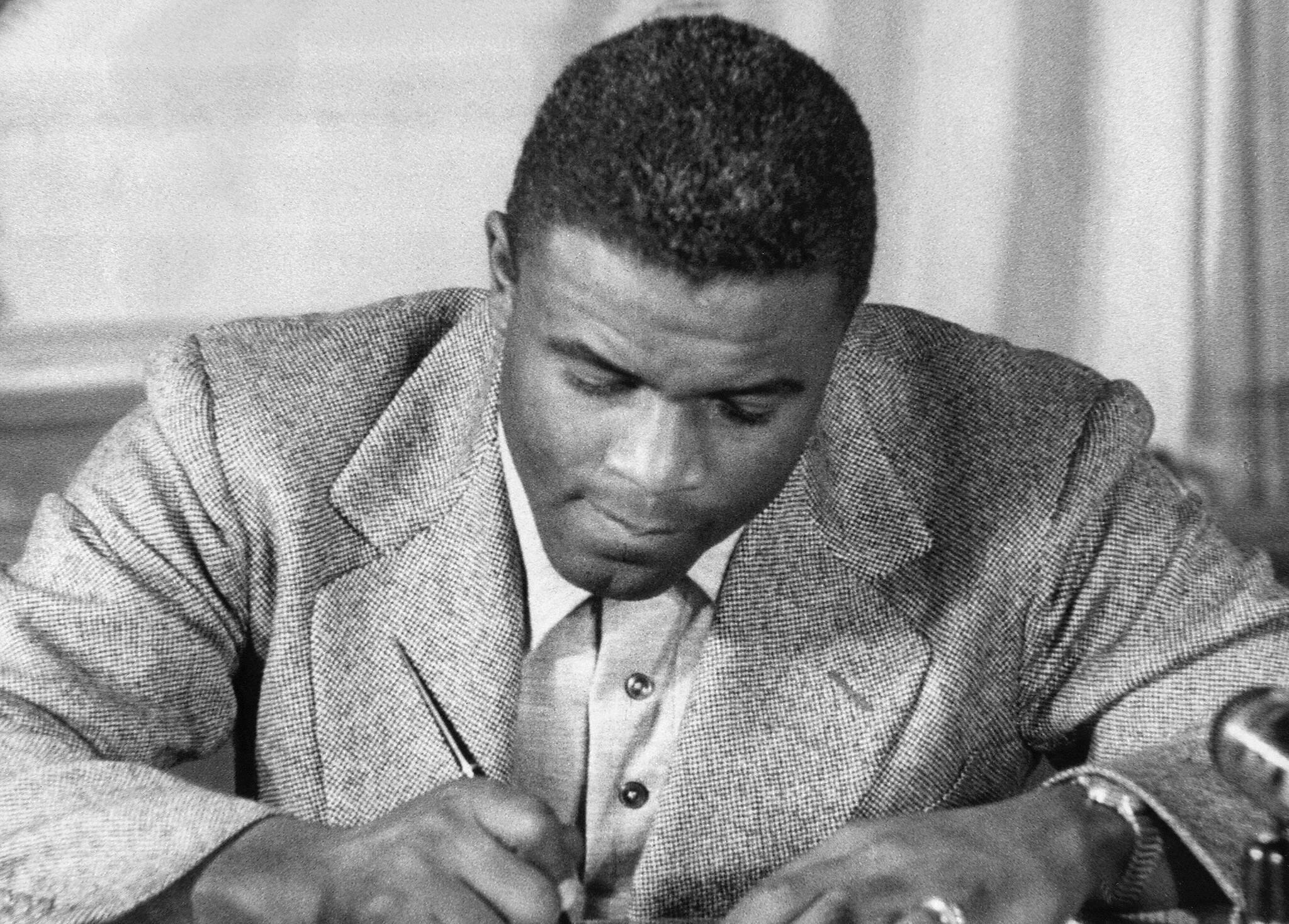 In early 1945 Jackie accepted a $400 per month contract to play for the Kansas City Monarchs in the Negro League. Robinson played 47 games at short stop for the Monarchs and hit .387 with 5 HR's, and 13 SB's while being in the 1945 Negro League All Star Game. In August of 1945 the club president and general manager of the Brooklyn Dodgers had a meeting with Jackie Robinson with hopes of signing him for either their big league team or their farm club, the Montreal Royals. Rickey was more worried about whether Jackie could refrain from fighting back when faced with racism rather than fight like he had in the military and at Pasadena Junior College. After Rickey got the commitment to turn the other cheek to the racism after the famous quotes from Jackie and Rickey, "Are you looking for a negro who is afraid to fight back" from Robinson which was responded by saying that he needed a Negro player "with guys enough not to fight back." Jackie was signed that day to a $600 a month contract and would be assigned to the Montreal Royals in the 1946 season. This would cause a bit of a ruckus within the Negro Leagues because Jackie was not the best player in the Negro Leagues and people like Satchel Paige, Larry Doby, and Josh Gibson were not happy with him getting the chance before they did. The racism and segregation started right away as many places would not allow Jackie or Johnny Wright, another black player Branch Rickey signed, to be a part of any activities. Jackie could not stay in the hotel with his team and since the Dodgers did not have a spring training facility yet most teams would not hold games that involved these two men. The police chief in Sanford, Florida even went as far as to threaten to cancel games if either of these two men trained there. On April 18th, 1946 the Jersey City Giants and the Montreal Royals played a game and Jackie Robinson made his professional debut, thus officially breaking the color barrier for minor league teams. Robinson went 4-5 including a three run home run, 3 RBI's, scored four runs, and stole two bases in a 14-1 Royals victory. Jackie would be named the International League MVP that season after leading the league with a .349 average and a .985 fielding percentage while drawing over a million fans in 1946 to the ball park to see games that he was in.
Jackie would be called up to the majors six days before the start of the 1947 season. Jackie was a right handed batter that played first base for the Brooklyn Dodgers because Eddie Stanky was the Dodgers every day second baseman. Robinson would finish his first season by playing 151 games with a .297 average, a .383 OBP, .427 SLG %, 175 hits, 125 runs, 31 doubles, 5 triples, 12 home runs, and 48 RBI's. He also led the league in sacrifice hits, 28, and stolen bases with 29 SB's that season. He would earn the inaugural Rookie of the Year Award that season. Stanky was traded to the Boston Braves in the spring of 1948 and Jackie took over the second base job where he finished with a .980 fielding percentage that season. He would hit for the cycle in August of 1948 against the St. Louis Cardinals and led his team to a third place finish in the National League. Jackie, with the help of Hall of Famer George Sisler, would reinvent his swing and approach at the plate and would win the 1949 MVP award with a .342 average, 37 stolen bases, 124 RBI's, 122 runs scored, and would be the starting second basemen for the National League in the 1949 All Star Game, the first to include black players. The Dodgers would win the National League Championship that season but would lose to the New York Yankees in five games. Jackie would become the highest paid player in Dodgers history up to that point with a $35,000 contract and would have a movie about him, the Jackie Robinson Story, made where he played himself in the movie. Before the 1951 season the Dodgers new owner Walter O'Malley offered Jackie the managerial job for the Montreal Royals when he was done playing baseball. The 1951 season would bring some heart break for Jackie and the Dodgers though because that was the season that Bobby Thomson's "Shot Heard 'Round the World" home run ended the 1951 World Series. They would win the NL pennant in 1952 but would once again lose in the World Series to the New York Yankees in seven games. They would once again win the NL pennant in 1953 but would once again lose the World Series to the New York Yankees, this time in six games. The Dodgers would get their revenge though in the 1955 World Series though as the Dodgers beat the New York Yankees to win Jackie's only World Series championship of his career. In 1956 Jackie Robinson was traded to the New York Giants but the deal was never completed because Jackie had agreed to quit baseball due to declining skills and his battle with diabetes.
Jackie would finish his major league career with a .311 career batting average with 1,518 hits, 137 home runs, 734 RBI's, and 197 stolen bases among other accolades. He would only play in ten seasons, all for the Brooklyn Dodgers, and would play in six World Series and six All Star Games including one World Series ring and one MVP award. In 1962, after pleading with voters to only vote on his on the field play and not his historic impact to the game of baseball, Jackie was inducted to the Baseball Hall of Fame on his first ballot. The Dodgers would retire his #42 on June 4th, 1972 along with teammates Roy Campanella, #39, and Sandy Koufax, #32. Jackie would make his final public appearance in October of 1972 where he threw out the ceremonial first pitch before Game 2 of the World Series. In 1999 Jackie was named to the Major League Baseball All-Century Team. Jackie Robinson would die on October 24th, 1972 in Stamford, Connecticut.
Jackie has been honored many times since his death of a heart attack at age 53. In 1987 both the American and National League Rookie of the Year Awards were renamed the Jackie Robinson Award. In 1997 Major League Baseball retired Jackie's #42 all across baseball with Mariano Rivera the only player left that was grandfathered in and still wearing it. In 2006 the New York Mets modeled the main entrance of their new stadium, Citi Field, after old Ebbets Field and named it the Jackie Robinson Rotunda. Also, starting in 2004, the Aflac National High School Baseball Player of the Year has been presented as the Jackie Robinson Award. In 2007 Governor of California Arnold Schwarzenegger and his wife Maria Shriver announced that Jackie would be inducted into the California Hall of Fame. His former college baseball team, the UCLA Bruins, play all their baseball games in Jackie Robinson Stadium and even have a memorial state of Robinson inside the stadium. City Island Ballpark in Daytona Beach, Florida was renamed Jackie Robinson Ballpark in 1990 and has a statue of Jackie and his two children in front of the stadium. There are many other buildings, houses, fields, etc. named after Jackie because of everything he did both on and off the baseball field.
Jackie Robinson will always be remembered for breaking the color barrier in baseball and leading the charge for black players in baseball. Jackie Robinson always did things the right way and fought for what he believed in and will always be remembered no matter how many years pass. Happy Jackie Robinson Day everybody and thank you Jackie for everything you have done both on and off the field.