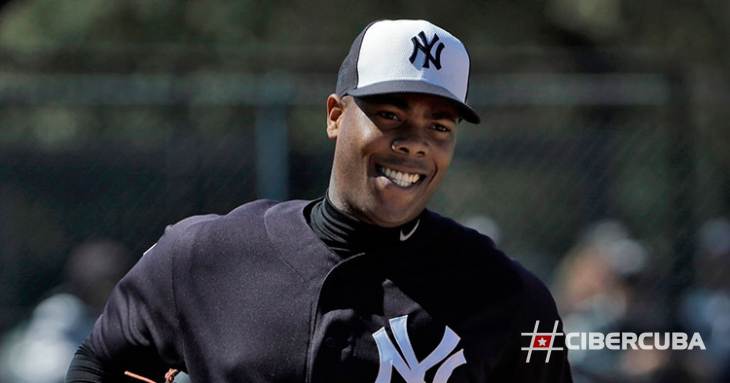 The New York Yankees have signed closer Aroldis Chapman to a five-year deal worth a whopping $86 million this offseason. What are my thoughts? Well I am certainly glad that you asked. Keep reading…
I am 100% excited and so ecstatic about it if I'm being honest. The New York Yankees needed a closer if they are going to compete in 2017, and that is no longer a question in my eyes as I see the Matt Holliday and Chapman signings as "win now" type signings without mortgaging the future, the team needed a closer and they got just that in Chapman. Chapman pitching in the 9th allows Dellin Betances to slip back to the 8th, and sometimes the 7th too, innings while Adam Warren, Tyler Clippard and the rest of the cast of characters handle the 6th and 7th innings for Joe Girardi. The bullpen may or may not be complete but if it is I have to say I'm quite happy with it.
The number of years I am not overly concerned with and the money never bothered me because this is a $3.4 billion company that needs to start acting like it. The Holliday signing and the Chapman signing are both smart for the "now" and for the future of the organization as neither deals will likely hamper the team for years to come, weren't given as long term deals to players well outside their prime and weren't astronomical in terms of dollars. I am quite happy with both signings to be fair.
The Yankees held onto their draft pick in the first round of the 2017 MLB First Year Players Draft as well signing Chapman after the lefty was ineligible to receive a qualifying offer after the Yankees traded him last winter which is also a huge plus for New York. The Chicago Cubs may have gotten a World Series out of it but the Yankees got Gleyber Torres for basically free, and I'm calling that a victory.
Great job Cash!