So if you've been living under a rock for the past week you probably missed the blockbuster trade between the New York Yankees and the Chicago White Sox earlier in the week. Actually, I take that back. WIFI reaches about everywhere these days, even under rocks, so you have no excuse. Shame on you. Anyway, I digress. As I tuned into the game on Wednesday, a day game between the Yankees and the Minnesota Twins, I heard that Todd Frazier was wanting to wear the #21 as he made his Yankee Stadium debut. My initial thought was that of shock because that's Paul O'Neill's number so I immediately went to Twitter to see if our followers shared the same sentiments and it seemed like they were just as shocked as I was. Now with a day or two to digest the fact that the #21 may be back back in circulation here are my thoughts on Frazier potentially wearing O'Neill's old number.
Personally I think the whole retiring numbers thing is getting a bit watered down. I know that's not a popular opinion amongst Yankees fans but it's mine. Sure, you retire the numbers of Babe Ruth and Joe DiMaggio and Mickey Mantle and the other Yankees legends but there are a few numbers I simply have a problem with. I won't name Reggie Jackson's name but there are a few names you could really make an argument against, and for probably as well. Roy White I'm looking at you and the need for a Roy White Day here at Yankee Stadium. The fact that O'Neill's number hasn't been retired by now though and the fact that the team held a Paul O'Neill Day at Yankee Stadium suggests that it's time for the number to be put back into circulation.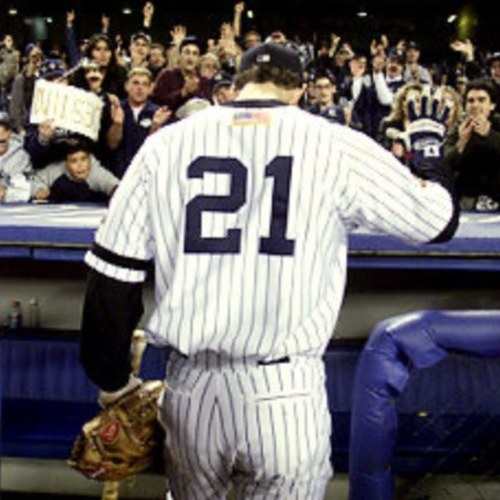 O'Neill walked off the Yankee Stadium field during the 2001 World Series never to be seen again in New York as a player, it's been 16 years folks. O'Neill finished the World Series in Arizona during that season and retired. The Yankees haven't retired the number and they have given him his plaque in Monument Park. O'Neill was tremendous for the Yankees and was a huge part of the dynasty that brought New York four World Series championships in five years and nothing can take away from that but I reiterate… it's been 16 years and the number hasn't been retired. Give it to someone.
So that's what the Yankees did. If Todd Frazier wears the #21 for the remainder of the 2017 season I'm okay with that. I'm borderline indifferent to be completely honest. It doesn't bother me to see anyone wear Tino Martinez's #24 uniform and he was my favorite player growing up so it shouldn't and won't bother me to see anyone wear O'Neill's #21. I'm sorry but it doesn't. I know, again, that's not the popular opinion around these parts but, again, that's mine and only my opinion. ---
Frankly I'm happy to see the number potentially back in circulation as I have quite a few #21 jersey's hanging in my closet somewhere that can now be put to good use again. So Todd, talk to O'Neill before heading back to Yankee Stadium like you intend to and enjoy the number if you get his okay. Either way you'll make us proud.