The New York Yankees had one mission this offseason, to improve their starting rotation, and they did just that on November 19, 2018 when the team acquired left-handed starter James Paxton from the Seattle Mariners. The Yankees sent LHP prospect Justus Sheffield back to Seattle along with right-hander Erik Swanson and outfielder Dom Thompson-Williams. While Paxton doesn't come without at least some concerns, most notably his ability to stay on the field, if healthy he gives the Yankees one of the best rotations not only in the American League, but in all of baseball. Let's meet likely the Yankees #2 starter this season, Mr. James Paxton.
James Paxton, 30-years old, is 6'4" tall and 235 lbs. and has earned the nickname "Big Maple" for his birthplace and his intimidating presence on the mound. Paxton, a left-handed starting pitcher, will enter the field inside Yankee Stadium with a 96 MPH four-seam fastball, an 82 MPH knuckle curve, a 90 MPH cutter and a 96 MPH sinker strapped to his left side. Paxton also rarely throws a changeup that touches around 87 MPH. Paxton generates a lot of swings and misses with his fastball, but on the flip side he also has stats trending in the wrong direction as far as fly balls go with his heater. Fly balls inside Yankee Stadium is never a good thing, ever. Paxton's curve ball generates a 12-6 movement while his cutter has a natural sinking motion to it when he throw it. Paxton generates a lot of swings and misses as well as ground balls with his sinker while his changeup is an extreme flyball pitch compared to others changeup's around the league. Paxton only threw 10 changeup's all season long in 2018, thank goodness for the Yankees.
James Alston Paxton was born on November 6, 1988 in Ladner, Canada. Eh. Paxton attended Delta Secondary School in Ladner, British Columbia before playing for the North Delta Blue Jays of the British Columbia Premier Baseball League (PBL) and for Team Canada at the Junior National level. After graduating High School, Paxton attended the University of Kentucky and played baseball for the Kentucky Wildcats baseball team. Paxton began his collegiate career as a reliever, but quickly worked his way into the Wildcats starting rotation as a sophomore. Paxton was drafted by the Toronto Blue Jays in the 2009 MLB First Year Players Draft in the first round, 37th overall, but opted to return to school for his senior season. After returning to school the NCAA ruled him ineligible for his senior season, stemming from his contact with agent Scott Boras. This led Paxton to pitch with the Grand Prairie AirHogs of the Independent American Association in 2010, passing the time until the Seattle Mariners drafted him in the fourth round of the 2010 Draft. Paxton signed immediately and began his professional career in Single-A with the Clinton LumberKings.
By the 2013 season Paxton was already in Triple-A and by September of that year he was called up to the major leagues. Paxton began the 2014 season in the Mariners rotation, but injuries cut his 2014 season to just 13 starts. The injury bug would hit Paxton once again in 2015 as he was limited to just 13 starts for a second consecutive season. Paxton began the 2016 season back in Triple-A before an injury to Felix Hernandez brought the big lefty back to the majors and back to the Mariners starting rotation. Paxton began the 2017 back in the Mariners rotation, but once again Big Maple saw his season cut short due to a pair of arm-related injuries.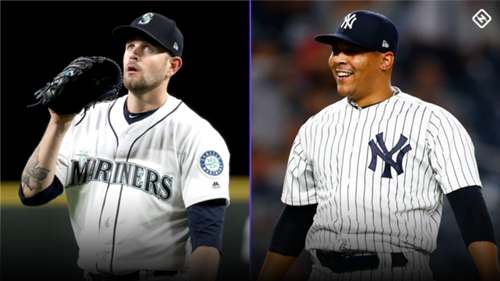 Paxton hoped to finally put it all together in 2018, and that he finally did for the Mariners. Paxton threw a no-hitter against the Toronto Blue Jays on May 8, 2018 throwing just 99 pitches in a 5-0 victory. Paxton finished a healthy and productive 2018 season with an 11-6 record and a 3.76 ERA. In the winter before the 2019 season the New York Yankees acquired Paxton from the Mariners for three minor league pitchers, thus beginning his tenure in the Yankees pinstripes. Welcome to the team, welcome to the organization, and most importantly… welcome to the family!!