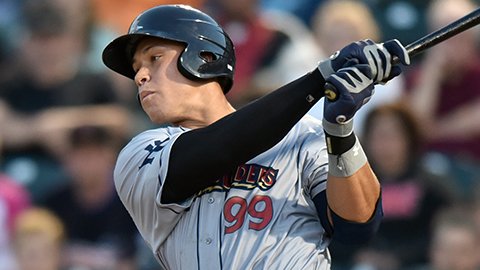 The Yankees have a plan for better or worse and dammit, they are going to stick to it no matter what. Brian Cashman has a plan and he's either going to look like a genius at the end of it all or him and manager Joe Girardi are going down with the ship. The Yankees did not sign a single free agent to a major league contract this winter and, for the sake of this fun and hypothetical post, they aren't going to get in the deep water of the free agent market after this season either. New York has three major free agents coming off their books after the season in Mark Teixeira, Carlos Beltran and Aroldis Chapman and their plan to get younger and more flexible will continue when they let all three of them walk via free agency. What will the team do to replace them though while sticking to the plan? The answers are actually easier to come by then you think.
No more Teix messages in New York and Greg Bird had offseason shoulder surgery, what are the Yankees going to do? Are they going to sign Teixeira to a one-year deal and/or offer him a qualifying offer after this season or will the team find a stop gap via the free agent market? Neither. I can see New York, assuming the health of Greg Bird, sending the Birdman of New York to the Arizona Fall League and any winter league they can this winter to evaluate his shoulder and the health of it before the season. Bird is a young guy and he had a similar surgery that Luis Torrens had last season and has come back from without any major issues. Torrens is a catcher and has to throw the ball back to the pitcher 150+ times a night, Bird is not. Bird will be fine and will be the Yankees starting first baseman on Opening Day 2017 saving the Yankees over $20 million in salary and bringing the average age of the club down significantly.
No more Beltran belts one in New York and Aaron Judge struggled in Triple-A at the end of the 2015 season, what are the Yankees going to do? Leave the past where it belongs, in the past. That's what they are going to do. Aaron Judge is a special talent and he has a lot of talented coaches and managers surrounding him not only in Triple-A but he will in the Bronx as well. Judge will have another year under his belt heading into next winter and barring an injury or a catastrophic fall off he should also get his MLB debut out of the way at least before the season ends, if not sooner. Judge is the future in right field in my opinion and not even Aaron Hicks, a potential Yoenis Cespedes free agent signing or anyone else is going to stop Judge. That's my verdict. The Yankees save another $15 million, give or take $500K, and they get a whole lot younger in the process.
No more John Sterling home run calls to reference and no more snazzy one-liners to mention, the Yankees are going to lose Aroldis Chapman to free agency. The good news for the Yankees is the team and the organization has seemingly an uncanny ability to produce high ceiling and talented relief pitchers out of their farm system. Dellin Betances, Jacob Lindgren and Johnny Barbato are recent examples of this and this will continue in 2017. Bryan Mitchell should be fully healed and ready from his toe injury, Lindgren should be a staple in the MLB bullpen and the Scranton Shuttle will still be a thing in 2017 so I see no reason to go out and blow money on an experienced relief pitcher who will want anywhere from $5 million to $15 million when the team has plenty of hungry and young fire ballers willing to throw 100 MPH and strike out two batters an inning for $525K. Save the money, get younger and keep the flow of dominant young arms coming through the Yankees system.
Stick to the plan. Get cheaper, get younger and get better. Get under the luxury tax for a season and give Hal Steinbrenner no excuse not to dip his feet into the free agent waters again.