Someone call the damn waaaaambulance, because New York Yankees fans are at it again (just a joke, having some fun with it). This week I have touched on two main topics, Bryce Harper and Manny Machado. I have detailed why both players are luxuries in the 2019 Yankees lineup, but I have explained in depth why both would help the Yankees going forward on the field. The responses have been great on Twitter, Facebook and on the blog, but some of the responses have just been downright ignorant. Now, before you get your panties in a bunch go look up the definition of the word ignorant. It is not and was not meant as an insult, but it really annoys me when 2/3 of the comments say, "Don't sign Machado/Harper, we need pitching." Or this gem, "Can Haper/Machado pitch? I'll wait." Well, Mr. condescending Yankees fan, they probably could… Austin Romine did, and did quite well actually. The thing is though, and the thing that a LOT of Yankees fans are missing, is that the Yankees could sign BOTH Machado and Harper, and STILL have money and prospects left over to address the pitching.
As it stands right now, pre-free agency and pre-arbitration, the Yankees have $86,342,857 in total payroll for the 2019 season. Alex Rodriguez's deferred payments eat up $4 million of that while Giancarlo Stanton ($26 million), Masahiro Tanaka ($22 million), Jacoby Ellsbury ($21,142,857 million), and Aroldis Chapman ($15 million in salary, $2.2 million signing bonus) use up the rest. That leaves roughly $114 million in salary before the team even goes over the luxury tax threshold, something the team did not do in 2018, thus resetting any penalties for going over in 2019.
Now, of course the Yankees have an expensive arbitration period coming up this winter with nine players eligible for arbitration this season. Those nine include Didi Gregorius ($12.4 million), Sonny Gray ($9.1 million), Dellin Betances ($6.4 million), Aaron Hicks ($6.2 million), Luis Severino ($5.1 million), Austin Romine ($2.0 million), Tommy Kahnle ($1.5 million), Greg Bird ($1.5 million), and Ronald Torreyes ($900K). Using the MLB Trade Rumors projected salaries in parenthesis, which are usually scarily spot on, the Yankees would end up spending $45.1 million, bringing their grand total to $131,442,857. Adding in pre-arbitration players like Miguel Andujar, Luis Cessa, AJ Cole, Clint Frazier, Domingo German, Chad Green, Ben Heller, Kyle Higashioka, Aaron Judge, Jordan Montgomery, Gary Sanchez, Luke Voit and Tyler Wade and that brings the total up another $7.215 million, totaling $138,657,857.
Let's just throw a number out there and say that Bryce Harper gets $30 million a season for however long. That would bring the Yankees salary to $168 million and change. Adding Patrick Corbin for another $20 million a season (I don't think he will cost that much, but it's just a number to throw out there) brings the total to $188 million.
The Yankees, according to reports, would have another $20 million to spend on one or more of JA Happ, Matt Harvey, Dallas Keuchel, Charlie Morton, Hyun-Jin Ryu, Zach Britton, David Robertson, Adam Warren, and a slew of other relievers. That's before mentioning the possibility of, although all are extremely unlikely, players like Clayton Kershaw, David Price (LOL), Carlos Carrasco, Cole Hamels, Jason Hammel, Ervin Santana, and James Shields joining the free agent frenzy.
Oh, and did we mention that the Yankees still have all their top prospects at their disposal in any trade this winter? Not to mention the fact that Justus Sheffield and others could also make their way to the 25-man roster this season at any point.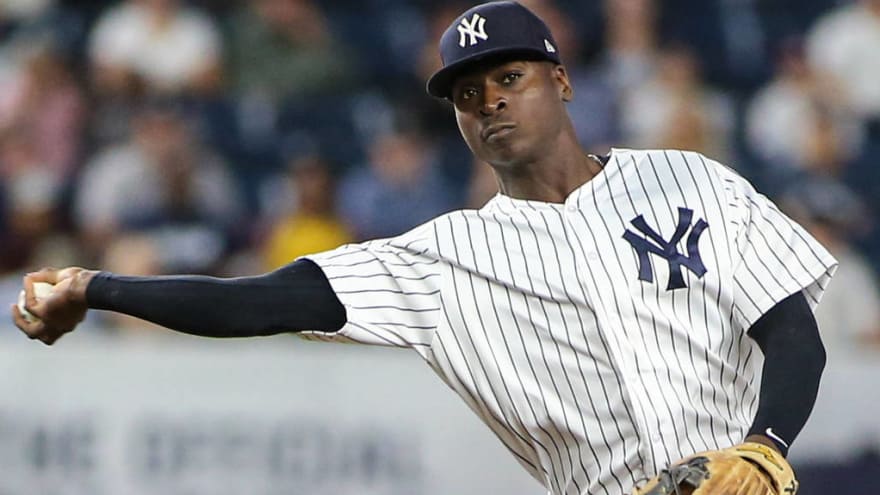 The Yankees could, and will certainly look to, trade away the salaries of Sonny Gray and at least some of Jacoby Ellsbury's current salary, thus opening up more money, while the team could also, although I personally advise against it, non-tender Didi Gregorius after his Tommy John surgery and sign him to a new deal. Didi being non-tendered is unlikely, but it is still a possibility if his rehab from the ulnar collateral ligament surgery does not go according to plan. If the Yankees keep trading away salaries they could easily make more money to add a player like Machado, if they wanted.
The payroll is wide open right now for the Yankees, and signing either Harper or Machado, or both, will not prevent the Yankees from solidifying their starting rotation and pitching needs. So, stop saying it, and stop waiting to hear if Machado and Harper can pitch. It doesn't matter.