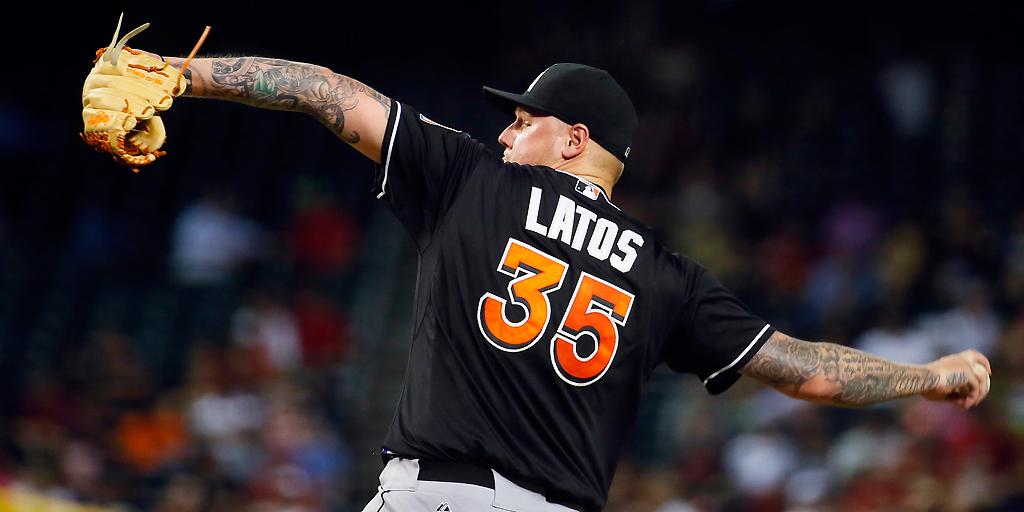 The July 31st trade deadline is just around the corner and the New York Yankees are expected to add at least one player before the deadline closes. New York seemingly wants an upgrade over Stephen Drew at second base, even if that means calling Robert Refsnyder back up, and may also look to upgrade their starting pitching. New York has been linked to just about every starting pitcher on the market including Johnny Cueto, Cole Hamels and David Price but one name we're not hearing enough about is the Miami Marlins RHP Mat Latos. There is probably a good reason for that too.
This weekend the rumors began that New York was scouting and somewhat interested in the Marlins starter Latos. Latos, at the time of this writing, has posted a 4-6 record with a 4.48 ERA while striking out 74 batters in a shade over 84 innings pitched. Keep in mind that Latos pitches in a pretty pitching friendly Marlins Park and also faces the oppoising team's starting pitcher once every time through the order before we start comparing those numbers to current Yankees starters. An old rule that I used to go by, and whether it is really accurate or not is anyone's guess, is that you add a full run to his ERA after going from the National League to the American League with non-ace starting pitchers. If this holds true that would put Latos more closer to a 5.48 ERA than a 4.48 ERA if he was pitching inside Yankee Stadium in 2015.
Latos is not an ace, he is closer to a third starter with the Yankees and maybe a number two starter in the National League even with his struggles and injury history this season, but he would be a nice fall back option for New York. Latos may never start on an Opening Day for New York, and he's a free agent after 2015, but if the Yankees make the playoffs you have to think right now he would start a potential Game Three of Game Four in a seven game series and that at least means something.