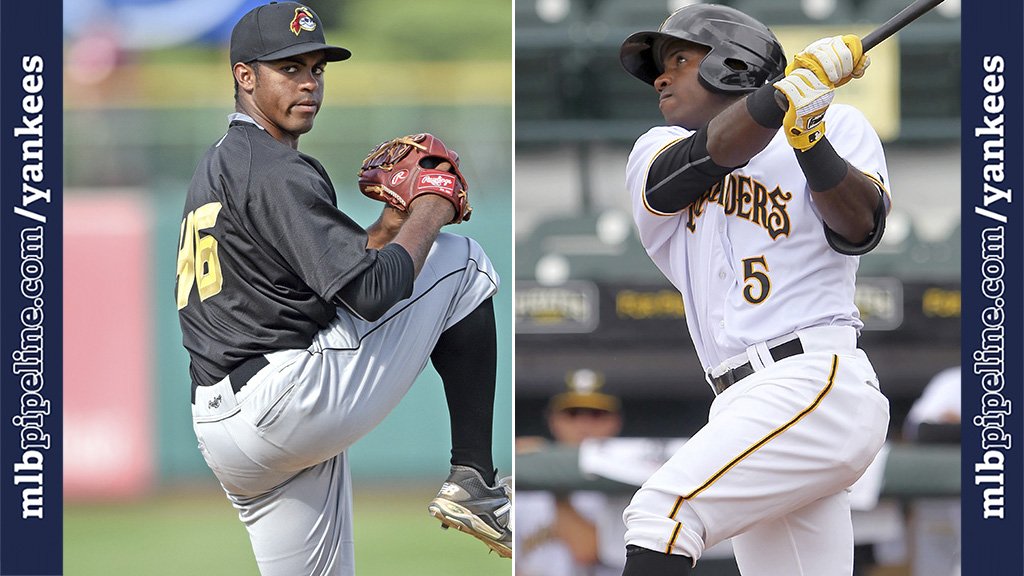 The New York Yankees and the Pittsburgh Pirates made a trade before the August 1st trading deadline that sent RHP Ivan Nova to Pittsburgh to help bolster their rotation for another playoff push while the Yankees received two players to be named later. Those players have been named and their names are Tito Polo and Stephen Tarpley. Let's meet them. This is Meet a Prospect: the Tito Polo and Stephen Tarpley Editions.
Let's start with the pitching side of things and Stephen Tarpley. Tarpley is now 23-years old and was originally drafted by the Baltimore Orioles in the third round of the 2013 MLB First year Players Draft. Tarpley was involved in the deal with the Pirates last year that sent Travis Snider to the Orioles as an A-Ball pitcher. Tarpley is raw as you would imagine even at 23 but his impressive strikeout numbers, 20.9% K/9 ratio, is enough to take a waiver on him. Tarpley has a 94-95 MPH fastball that has sinking action to it that creates a lot of ground balls as well as a curve ball and a slider. Tarpley has also thrown a changeup that he seems to command well which could make him a legitimate four-pitch pitcher or at least a solid three-pitch pitcher that can pound the strike zone.
Polo was originally signed out of Columbia in 2012 by the Pirates and has seen both Low-A and High-A Ball this season for Pittsburgh. Polo is hitting a combined .289/.360/.451 with 16 home runs and 37 steals in 109 combined games for Pittsburgh while playing outfield for the organization. That's all the Yankees need is another outfielder, right? Especially one that projects to possibly be a fourth outfielder at the MLB level but he does hit for power, he should hit for a decent average and he runs very well which helps him on the bases and in the outfield defensively. Hey, you never know. He could blossom into something special. I don't remember many knocking down the doors to acquire Bernie Williams, recent Player of the Year Ben Gamel or many other's doors when they were in A-Ball either.
Both Tarpley and Polo are Rule 5 Draft eligible after this season so either could be taken from the organization or protected. I can't see Polo being protected under any circumstances but Tarpley could be protected and hidden in a bullpen for a season, at least through spring training anyway, so this will be interesting to watch. Either way Cashman turned a struggling free agent to be that couldn't get MLB hitters out into two seemingly usable prospects, that's a win every day of the week.