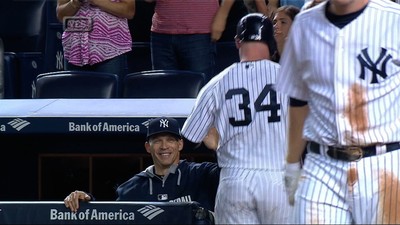 Fantasy Baseball is right around the corner for some and the catcher position looks to be as thin as ever heading into the 2015 season. Carlos Santana is no longer listed as a catcher and neither is Joe Mauer leaving the pool of available players very top heavy in an offensive based league. My advice to you, grab a catcher as early as feasibly possible. I'm not saying take Buster Posey with a Mike Trout type available on the board but if you're considering an outfielder or a catcher, definitely go catcher.
The Top 10 starts with Wilson Ramos of the Washington Nationals. Ramos should have plenty of runners on base when he comes up and hits for decent power and average for his position. Following Ramos at the number nine slot is Russell Martin of the Toronto Blue Jays. Martin is another who should have plenty of RBI chances hitting in the middle of the Blue Jays lineup and may feast on a seemingly weaker set of American League East pitchers. Yadier Molina is a mainstay in these rankings and is 7th on my list from the St. Louis Cardinals while our very own Brian McCann comes in at the #6 spot. Evan Gattis is listed as a catcher this year and I include him at #5 even though I expect to see him DH and play left field some in Houston. Either way his power is undeniable, even in Minute Maid Park.
The fourth best catcher this season, fantasy wise anyway, has to be Yan Gomes of the Cleveland Indians as he leads a young and up and coming pitching staff as well as an equally young and up and coming offense in the American League Central. Devin Mesoraco leads a talented Cincinnati Reds staff in the three spot and plays in a very hitting friendly park in Cincinnati while Jonathan Lucroy looks to have another fantastic season in Milwaukee. Even with his best season I cannot see Lucroy, or anyone, taking over the top spot from Buster Posey. Posey is still the best catcher in baseball and far and away the best offensive catcher in baseball and will remain in that spot at least for one more season in San Francisco.