The Yankees have quite an impressive roster, not to mention a nice chunk of change, sitting on the DL to start the 2013 season. I know the stories of the Yankees being too old or not having enough depth have been over stated the last 10 years, and that might not be the exaggeration that I think it is, but this may be the year the Yankees Empire may finally fall. Let's look at what the Yankees have sitting on the DL or expect to have on the DL when the season starts and see how that ranks with others around the league.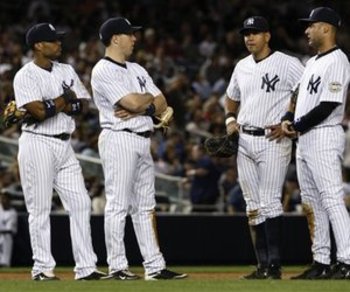 Only one of them will be on the field for Opening Day
We will simply stick to the 40 man roster for simplicity sake.
Manny Banuelos - $490 K - Likely to miss all of 2013 with Tommy John Surgery
Cesar Cabral - $490 K - Likely to miss 1-2 months rehabbing elbow fracture surgery
Phil Hughes - $7.15 M - Likely to miss one start with back pain
Michael Pineda - $528 K - Likely to be out until June while rehabbing from shoulder surgery
Clay Rapada - $525 K - Likely to start season on DL with shoulder bursitis
Derek Jeter - $17 M - Rehabbing ankle surgery that he had in October of 2012
Alex Rodriguez - $28 M - Second hip surgery in five seasons
Mark Teixeira - $22.5 M - Wrist injury sustained in the WBC
Curtis Granderson - $13 M - Fractured forearm
The Yankees already have a grand total of $89,683,000 of salary sitting on the disabled list and it is only March 24th. That salary ranks higher than 16 MLB teams. That list includes the Arizona Diamondbacks, Atlanta Braves, Cleveland Indians, Colorado Rockies, Houston Astros, Kansas City Royals, Miami Marlins, Milwaukee Brewers, Minnesota Twins, New York Mets, Oakland A's, Pittsburgh Pirates, San Diego Padres, Seattle Mariners, and the Tampa Bay Rays. The year of the injury looks like it is getting a sequel, and much like in Hollywood, its going to be bigger and... better?
The Yankees total payroll is somewhere in the $210-$211 million range and nearly half of that is sitting on the disabled list right now. This will affect the Yankees on the field product and the off the field product, especially
Yankees tickets
, merchandise, etc. I am not looking forward to a mediocre Yankees season and I do not want a repeat of 2008 so hopefully we ditch the 2014 plan, acquire someone like Justin Morneau, and win #28 for Mariano Rivera.