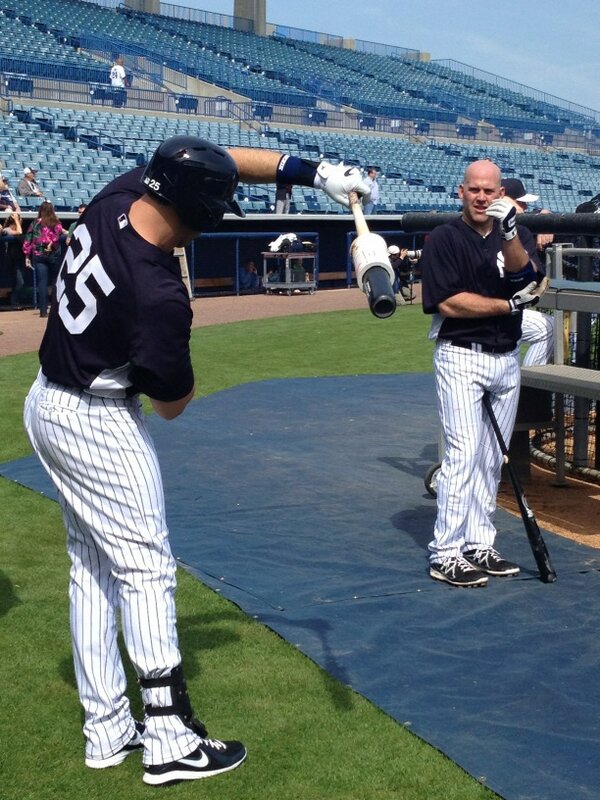 Mark Teixeira played in actual live baseball today after starting in an extended spring training game along with Kevin Youkilis. Mark Teixeira played in five innings both at the plate and in the field and got five at bats. Mark is expected to take tomorrow off and play extended spring games again Monday and Tuesday before starting his rehab assignment with the Trenton Thunder on Wednesday. Kevin Youkilis got three at bats and played three innings at the plate and in the field but his schedule is not as clear as Mark's is. Kevin seems to be behind Mark Teixeira in the grand scheme of things but still expects to start a rehab assignment in Trenton as early as next week.
Joba Chamberlain also threw two innings as planned in an extended spring game in what could be his final tune up before coming back to the majors after suffering an oblique injury. Joba, like most every other Yankees pitcher this season, took a come back line drive off the bat off of his calf but seems to be fine. If Joba has enough stamina and arm strength after today then he will come back to the majors after almost a month on the DL.
Andy Pettitte and Hiroki Kuroda both threw bullpen sessions today trying to come back from various injuries. Pettitte will throw a simulated game in a few days to test his back before thinking about coming back to the majors. Kuroda reported a little stiffness in his calf and some soreness but that is to be expected and should not keep him from his next start against the Mets.