Mariano Rivera, maybe you have heard of him? The greatest closer of all time, the all time saves leader, the all time this the all time that.The guy that has made a living throwing one pitch at one speed for what seems like forever. Really all you have to say is... Mariano Rivera. Enjoy us meeting the Yankees prospect Mariano Rivera all over again. Although I cannot help but laugh at this Bowman rookie card, maybe he is a mortal after all? Anyway... enjoy!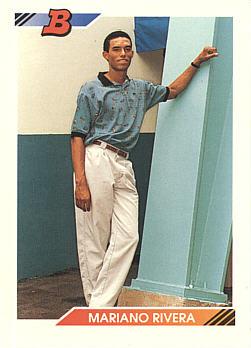 Mariano was signed by the Yankees in 1990 as an amateur free agent out of Panama. He did not break into the majors until 1995, barely losing his rookie status pitching 67 IP (you lose rookie status after pitching 50 IP in one season). Mariano started our as a starting pitcher and he struggled mightily at it. Later in the 1995 season he was converted to a reliever. In 1996 he became John Wetteland's set up man on the Yankees World Series team, thus allowing them to let Wetteland walk via free agency and make Mariano their closer for good in 1997.
Mariano Rivera was born November 29th of 1969 in Panama City, Panama. Growing up in Panama in a fishing community he was always considered to be poor. When they played baseball Mariano would substitute milk cartons for gloves and tree branches for bats, among other things. They also wrapped their baseballs with electrical tape and shredded fishing net to keep the ball in play for longer and for decorations. Mariano said he used make shift equipment until he was 12 years old when his father bought him his first baseball glove.
Mariano Rivera thought of baseball as a hobby and did not even play baseball at all in high school. Instead he thought of himself as a potential soccer player but an ankle injury stopped that early in his high school career. He graduated high school at age 16 and worked on a shrimp and fishing boat with his father until he was 19 years old after he had to escape a sinking ship.
In 1988 Rivera started to play for a local baseball amateur team as a short stop and caught the attention of Yankees scouts, who did not see him as a potential long term short stop. The next year, 1989, his team was so horrible he volunteered to try out pitching to fill innings. He excelled at the position and two weeks later he was at a try out for the Yankees in Panama City with Yankees scout Chico Heron. While at this try out Rivera, with no pitching experience or training, was only throwing 85-87 mph but showed nice mechanics and a smooth delivery to go with his athleticism. Rivera obviously did enough to impress Yankees scouts as the Yankees offered him a $3,000 signing bonus to sign a free agent contract with us in 1990.
Being considered nothing more then a "fringe " prospect in 1990 he came to the Gulf Coast League (GCL) and, while speaking no english and being away from his home for the first time in his life, allowed 1 run in 52 IP and a 0.17 ERA in his professional debut season. That is not a typo... 0.17 ERA in 52 IP with no formal pitching experience or training. He also threw a seven inning no hitter on the final day of that season to put himself on the radar in the Yankees system.
In 1992, as a starter for AA, Mariano Rivera was working on a slider and tore his ulnar collateral ligament which usually requires Tommy John Surgery. The doctor that was lined up to do his surgery told him that his ligament did not need repaired and the surgery was not necessary. His rehab on this was at the same time the Colorado Rockies and Florida Marlins were allowed to draft players for their own expansion teams. While Mariano Rivera was left unprotected by the Yankees neither team took a chance on him while he was rehabbing. If you need more proof that there is a God, please keep reading lol. When he came back in 1993 he eventually went back to A ball as a starter and caught the eye of official scorer Ogi Overman who was not impressed. He was quoted as saying "(he) was on a one way trip out to nowhere."
In 1995 Baseball America named Mariano the Yankees 9th best prospect in the system, even after struggling in AAA Columbus with an era north of 5. He eventually got his call up to the majors in May of 1995 replacing an injured Jimmy Key in the starting rotation for the Yankees staff. In that season he was almost traded to the Detroit Tigers for David Wells but then Yankees GM Gene Michaels called off the trade when he saw Mariano's velocity jump 6 mph to 95-96 mph in one start. Rivera has always thanked and praised God as the only explanation for his drastic improvement. After pitching 5.1 IP of scoreless baseball in the ALDS against the Seattle Mariners Mariano was moved to the Yankees bullpen for good. The rest is history...
Mariano Rivera, Super Mariano, Sandman, God, whatever you want to call him as long as you respect him. Mariano Rivera is far and away the greatest closer of all time and some might say the greatest Yankee of all time, which gives me chill bumps just thinking about. Mariano Rivera had 5 World Series rings, 12 all star teams, received MVP votes in 9 different seasons, 6 seasons he received votes in the CY Young award, 5 Rolaids Relief Awards, an ALCS MVP award in 2003, a World Series MVP in 1999, and a Babe Ruth award. Entering the 2012 season he has the most saves of all time, 603, and a flurry of other stats that he sits at the top of that if I had the rest of the year to type out I would. That is not even mentioning his stellar, and unbelievable at times, post season stats including 42 post season saves. Mariano Rivera is the best, what else can you say? First ballot hall of famer after he finally decides to hang up his cutter.
Mariano Rivera also is a charitable man working with many Christian community groups through the Mariano Rivera Foundation. I , as always, recommend checking them out!
Tune in tomorrow when we check out Yankees All Star 2B Robinson Cano in our next edition of Meet A Prospect Special Edition.