The Yankees sent three of their big time prospects down to the Arizona Fall League to play for the Scottsdale Scorpions this off season including David Adams, Dellin Betances, Slade Heathcott, Mark Montgomery, and Austin Romine. The Scorpions ended the season with a 15-16 record and finished 2.5 games behind the Rafters.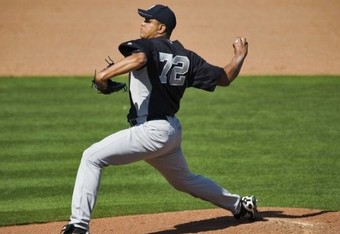 Dellin Betances had a AFL to forget, much like his entire 2012 season, finishing with a 1-3 record and a 5.25 ERA in 12 IP. While he started off really slow and really ugly he finished with some solid outings out of the bullpen. He did fight with a groin injury that nagged him a little and kept him on the bench but he apparently has a clean bill of health now and is ready to build on his recent success and take it into 2013.
Austin Romine missed almost all of the 2012 season with a nagging back injury that he got in Spring Training with the Yankees. He finished with a triple slash of .222/.342/.286 over 18 games with 4 doubles and 6 RBI's. He struck out 13 times and drew 12 walks. Not exactly the kind of stats you wanted to see from your closest positional prospect in the system but he was down there more to get work in than for the results so I guess that is the silver lining.
Zach Nuding and Danny Burawa were also sent down to the AFL but neither had spectacular seasons in the AFL. Burawa went down to Arizona to get some work in after missing the 2012 season with a back injury as well. Nuding actually took a step back after what was a stellar season in Tampa.
Slade Heathcott may just end up being the Arizona Fall League MVP for this go around around putting up a triple slash of .388/.494/.612 over 18 games and 67 at bats. He hit 1 HR, 3 triples, 6 doubles, and 15 RBI's. In his last 10 games he hit exactly .500 with two 4-5 games that earned him the Player of the Week Award for the week of November 6th. This is huge news that he is healthy and knocking the cover off the ball because if he can build on this and continue at this pace he may be in the majors in the next 2-3 seasons.
Mark Montgomery continued to do what Mark Montgomery is becoming known for, well known for by Twitter followers and prospect huggers alike anyway, and that is striking people out and bring kind of a cocky kind of guy. In 10.1 IP Mark had a 2.91 ERA only giving up three runs while shutting down offenses for seven straight games. He struck out 19 batters while only walking five batters allowing five hits and those three runs. His batting average against, or BAA, was a minuscule .174 which is a truly great sign for a guy that could conceivably make the jump to the majors as soon as 2013 if the situation in the Bronx got bad enough.
David Adams has been riddled with injuries for the past 2-3 seasons but put together a nice bounce back healthy season in 2012. He built on that down in Arizona while putting up a triple slash of .286/.388/.524 in 22 games played. Adams hit 3 home runs, 2 triples, 7 doubles, and 15 RBIs while playing 2B and 3B for the Scorpions. He was also nominated for the Stenson Sportsmanship Award that will be handed out during tomorrow's Championship game at 3:00 pm ET on MLB Network.