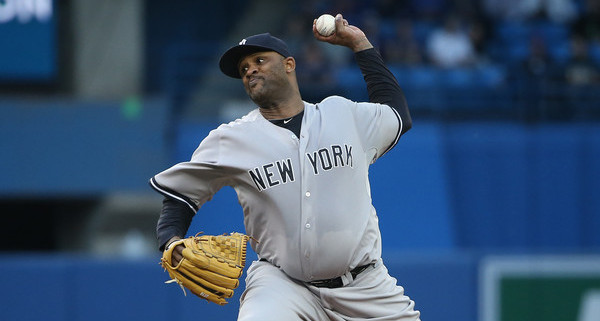 CC Sabathia took yet another uncompetitive loss, surrendering four earned runs in 6 1/3 innings as the Yankees dropped the rubber game to the Blue Jays, 5-1, on Wednesday night at Rogers Centre.
Sabathia Stumbles: The big lefty blew an early 1-0 lead in the second when Ezequiel Carrera connected on a two-run single to right, and wasn't much better from then on. He served up a solo home run to Russell Martin in the sixth, ultimately finishing with nine hits and two walks under his belt.
No Offense: The Yankees' bats struggled mightily against the Blue Jays' pitching staff on the evening, recording just six hits in five innings off the floundering Mark Buehrle. They plated a quick run in the first on a Mark Teixeira groundout and stranded the bases loaded in the fifth, but failed to seriously threaten once the bullpen entered.
Not Exactly Helpful: Down 2-1 with Martin on in the fifth, Sabathia committed a costly balk to advance him to scoring position -- setting up the red-hot Chris Colabello for an RBI single moments later. It was Sabathia's first illegal motion since April of 2013, as well the sixteenth of his career.
Make That Nine Now: Thanks to a blooper that found grass in the aforementioned top of the fifth, Jacoby Ellsbury was able to extend his current hitting streak to nine games -- the longest such streak presently on the Yankees. The single was Ellsbury's only knock in four at-bats in the contest, though he is still 24 for his last 53 overall.
A Solid Debut: Added to the roster earlier in the day for the first time this season, utility man Jose Pirela went 2-for-4 for the Yankees -- hustling for a double in the third following a sharp line drive to left. Pirela hit ninth and played second base in the Yanks' starting lineup, having no problems defensively in replacement of Didi Gregorius.
Next Up: The Yankees head back to New York on Thursday when they host the Orioles in the first of four at Yankee Stadium -- beginning at 7:05 p.m. ET and airing live on MLB Network. Nathan Eovaldi (2-0, 3.81 ERA) will get the nod for the Yankees looking to build off a strong outing in Boston, facing slumping O's right-hander Chris Tillman (2-3, 6.23 ERA).