UPDATE:
28 pitch first inning for Phelps. That is why Hughes will start when Pettitte comes back and Phelps wont, way too many pitches.
Robinson Cano looks like he is coming out of his little slump to start the season when he hit a two out rbi double, scoring Derek Jeter, to give the Yanks a 1-0 lead.
Rays win 4-1 as Houdini has an off night and allows four runs in the 9th inning.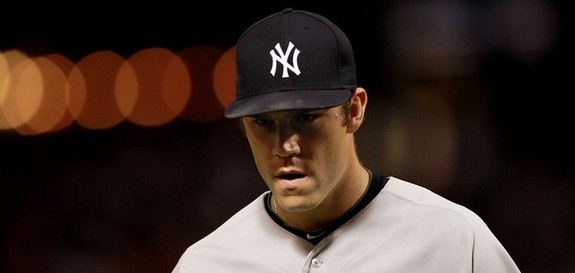 Focused....
The Yankees will host the Rays for the second game of this three game series at the stadium tonight at 7:05 pm ET. The game will be televised on YES and ESPN and will showcase Yankees rookie starter David Phelps making his second career start in his young major league career. He will be facing the Rays Jeff Niemann, which is never an easy task. Here is the lineup:
Derek Jeter SS
Curtis Granderson CF
Alex Rodriguez 3B
Robinson Cano 2B
Mark Teixeira 1B
Nick Swisher RF
Raul Ibanez DH
Russell Martin C
Dewayne Wise LF