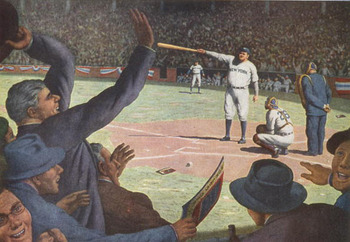 I have been playing this mega prediction game on this sports forum and it is really fun so I figured I would share. What you do is predict whether the Yankees will win or lose each game in a series and put a point total to the game. How many point allotted depends on how many games there are in the series. On a three game series you get ONE three point game, ONE two point game, and ONE one point game. Here is MY example for the Blue Jays series.
7/16-7/18 NYY vs. TOR
Game 1: WIN 3 pts (Hughes 9-7, 4.33 ERA vs. Alvarez 5-7, 4.36 ERA)
Game 2: WIN 2 pts (Sabathia 9-3, 3.45 ERA vs. Cecil 2-1, 6.75 ERA)
Game 3: WIN 1 pt (Kuroda 8-7, 3.67 vs. Romero 8-5, 5.03 ERA)
I do not think there is a prize, other then bragging rights, for this but it is fun as hell. Especially when you are getting down to the wire and you purposely have to be strategic to get back into the game. We have a first half winner and a second half winner then those two battle it out in a playoff. All the rules are in the thread, seen HERE, so maybe some of you would be interested in playing?
Totally free and spam free to sign up.