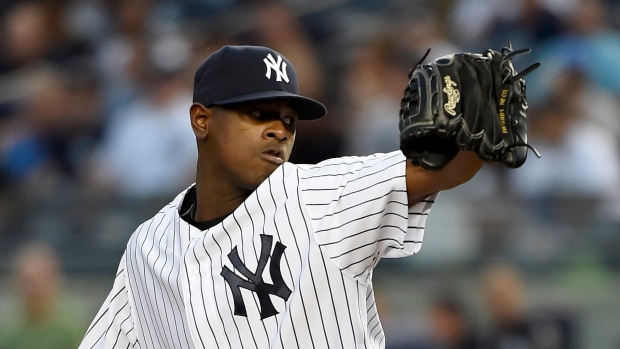 TONIGHT'S CONTEST HAS BEEN RAINED OUT AND WILL BE MADE UP ON SATURDAY AS A DOUBLE HEADER, SINGLE ADMISSION!

The New York Yankees and the Toronto Blue Jays will face off head-to-head for the next four games this week inside Yankee Stadium and that big series starts tonight in the Bronx. This is the biggest series of the year for both teams, well until the next and final series head-to-head inside the Rogers Centre later on in the season, as both teams continue to fight for American League East supremacy. The Blue Jays come into the contest with an 8-4 advantage in the season series and come into the series with the advantage in the division. The Yankees will send Luis Severino to the mound looking to turn things around for New York while the Blue Jays will counter with David Price. The game will be played at 7:05 pm ET and can be seen on the YES Network and MLB TV.
Severino will possibly be making his biggest start of his young Yankees career tonight in the Bronx against the Toronto Blue Jays. Severino has already beat the Blue Jays once this season but will draw David Price on the Yankee Stadium mound so it will not be an easy task getting his second win against the Yankees AL East rivals.
Price has been the ace that the Blue Jays were hoping they were acquiring when they sent their top prospect in a package to Detroit before the July 31st trade deadline. Price has made seven starts with Toronto since the trade and has posted a 5-1 record with a 2.15 ERA in a Blue Jays uniform.
I cannot put into words how huge this series is for the Yankees. New York comes into the game with the news that both Mark Teixeira and Nathan Eovaldi are likely done for the regular season and come into the contest with many players "beat up" including Brett Gardner and Jacoby Ellsbury. You know what though? The Blue Jays are beat up and have done it all season long without the man, tomorrow's starter Marcus Stroman, the team relied on to pitch on Opening Day. They aren't making excuses and I know the Yankees aren't either, excuses are for the fans. Start the battle cry and let's do this! Go Yankees!