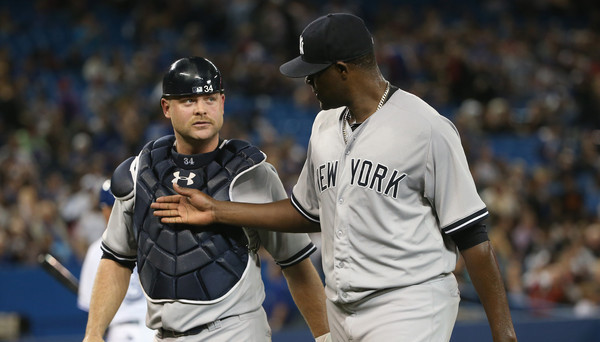 Michael Pineda logged his best start of the young season, shutting out the Blue Jays over eight five-hit innings to lead the Yankees past their AL East rival, 6-3, on Tuesday night at Rogers Centre.
Pineda Dominant: Pineda struggled somewhat through this one's first three frames -- allowing three hits and a walk while throwing 45 pitches -- but was otherwise great in his fourth win of the year. He let just one runner reach third and struck out six, retiring seven consecutive to end the outing.
A-Rod's Clutch Hit:
The Yankees put two men in scoring position immediately in the top of the first, and were hoping for a big go-ahead hit with Marco Estrada laboring. They got just that in the form of a two-run double by Alex Rodriguez, a line-drive to left on a
changeup up in the zone.
He Only Hits Home Runs: Batting with a runner on in the Yankees' half of the fifth, Mark Teixeira drilled a two-run shot to force Estrada's removal -- crushing a first-pitch fastball high into the right-field stands to break the game open. It was Teixeira's tenth four-bagger of 2015, extending the Yanks' advantage to 5-0.
Another Late Scare: On the mound with the Yankees up 6-0 in the ninth, David Carpenter surrendered a three spot to give the Blue Jays some momentum -- yielding three hits and a Russell Martin homer to suddenly make things close. Indeed, Carpenter's rough two-out appearance added stress to the Yankees' victory, though Andrew Miller was still able to convert the save shortly afterwards.
Ellsbury Stays Hot: Two days removed from a four-hit evening in Boston, Jacoby Ellsbury continued his recent hot-streak with a 3-for-5 performance -- singling all three times to improve his average to .358. He drove in the Yankees' third run with a knock in the second, plating Gregorio Petit with a sharp grounder to left.
Next Up: The Yankees will try to take this series on Wednesday when they battle the Blue Jays in the finale north of the border -- beginning at 7:07 p.m. ET and airing live on the YES Network. CC Sabathia (0-4, 5.40 ERA) will get the ball for the Yankees looking to record his first W, facing veteran Jays lefty Mark Buehrle (3-2, 6.75 ERA).