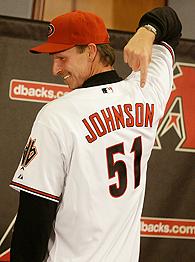 Randy Johnson was recently elected into the Major League Baseball Hall of Fame as we all know and many wondered what team the Big Unit would go into the Hall supporting. Johnson spent time in Seattle, Houston, San Francisco, Montreal and New York during his career but his time in Arizona apparently meant the most to him, and was the most successful for him truth be told. For that reason Johnson will head into the Hall of Fame wearing his #51 in red and black supporting the Arizona Diamondbacks.
Obviously Johnson was not going to wear a Yankees cap in the Hall after spending just two seasons in the Bronx, although he did win 34 games in two seasons, so this should come as no surprise to anyone. Johnson will be the first true Diamondbacks player to enter the Hall, Roberto Alomar spent time in Arizona but did not enter the Hall as a Diamondback, after winning the first World Series for the franchise among a slew of other achievements and accomplishments.
Congratulations to Randy once again and congratulations to the Arizona Diamondbacks organization and their fans. This has to be truly special and an honor for them.