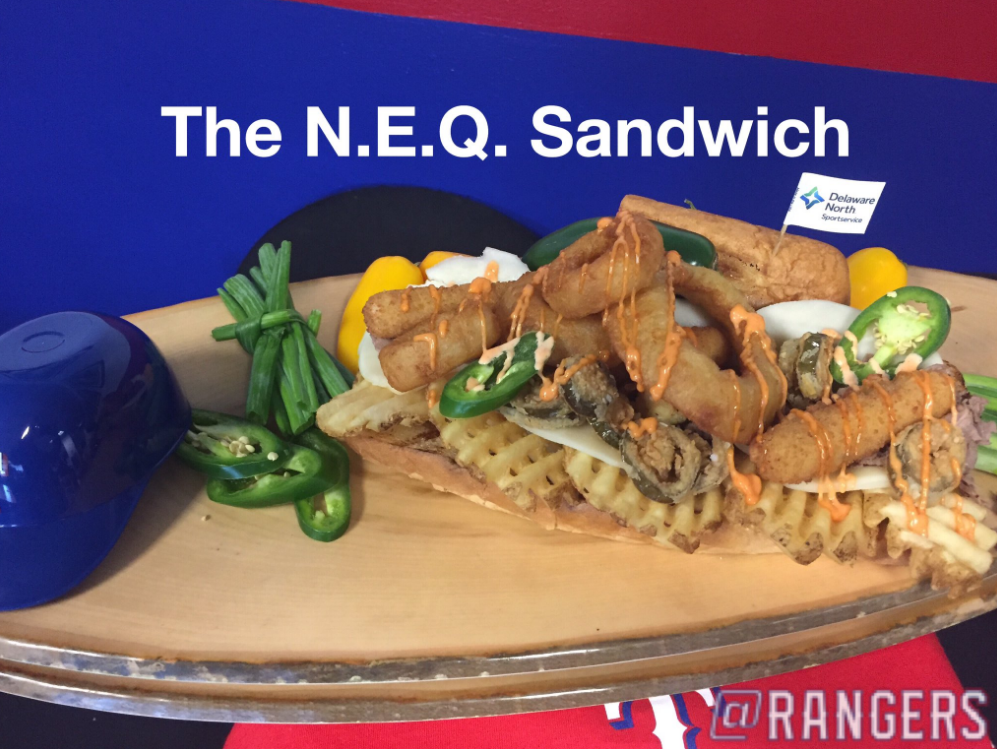 This is a feature we normally do in Spring Training and right before the season starts and we call it "I'm Hungry" but after reading what the Texas Rangers will be bringing to the Ballpark in Arlington this postseason I had to do a special edition tonight. Playoff baseball is here and the Rangers want their fans with plenty of energy to cheer and they have released four new menu items that sound crazy, but look amazing. Let's check them out.
The N.E.Q Sandwich is the first addition and it stands for "Never Ever Quit" and the sandwich may never ever quit tearing up your digestive tract and system. The sandwich is a Philly cheesesteak sandwich stuffed with fried jalapenos, onion rings, waffle fries, mozzarella sticks and queso. This also comes with a Captain Morgan sauce to top it all off making this the ultimate bar and stadium food.
The next food item is the Tamarlington Dog which is basically a hot dog inside of a tamale. Pure freaking genius, people. The dog is topped with chili and nacho cheese.
The third food item is called the Popcornopolis Pita and this item contains smoked brisket, macaroni and cheese and caramel popcorn. Yes, yes and no. I don't care if you bring me some peanuts and cracker jacks, just don't mix them. Gross.
The final item on the menu for this postseason is the Atomic Burger and it is exactly how it sounds. Hot. The burger is town pounds of meat with ghost pepper cheese sauce. Ghost peppers are 400 times hotter than a jalapeno. No thank you.