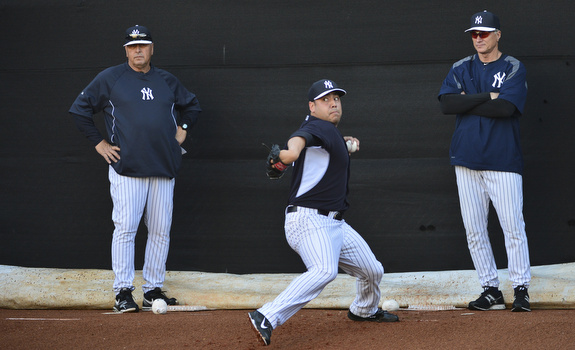 The New York Yankees are in a very unique situation where they have may too many major league caliber and ready pitching to fit on the team, keeping someone deserving in the bullpen and someone deserving in the minor leagues. This got me thinking, should the Yankees go to a six man rotation? My initial answer was no because it would take too many starts away from our horses, best pitchers, and highest paid pitchers in CC Sabathia, Hiroki Kuroda, and Masahiro Tanaka. Using a modified six man rotation and assuming that Vidal Nuno (for a second lefty) and Michael Pineda make the team the Yankees, if they do read my blogs as much as I think they do, can make this work for everyone involved.
Pineda has pitched somewhere around 40 IP in the last two seasons due to his shoulder capsule surgery before the 2012 season so his stamina will always be an issue and a question mark. Kuroda has had two consecutive seasons in which he has broken down and tired out in August and September so he could also benefit from a skipped start or two or some extra rest. Sabathia has the most innings on his arm of basically anyone in the world in recent memory before an injury riddled and down season from him in 2013, hinting at a decline. Tanaka is a relative unknown and while I do not worry as much about his performance I do worry about him going from starting once a week in Japan to every fifth day here, at least for the first season anyway. Then you through in Nuno, or Adam Warren, who have come out of the pen and the rotation on any amount of rest and still perform and the rotation starts to take form.
Here is my plan for experimenting with the six man rotation for the month of April only. Like? Dislike? Wanna change anything? Drop a line in the comment box.
DATE OPPONENT PITCHER DAYS REST & HOME/AWAY
4/1 Houston Astros CC Sabathia n/a Away
4/2 Houston Astros Hiroki Kuroda n/a Away
4/3 Houston Astros Ivan Nova n/a Away
4/4 Toronto Blue Jays Masahiro Tanaka n/a Away
4/5 Toronto Blue Jays Michael Pineda n/a Away
4/6 Toronto Blue Jays Vidal Nuno n/a Away
4/7 Baltimore Orioles CC Sabathia 5 Home
4/8 Baltimore Orioles Hiroki Kuroda 5 Home
4/9 Baltimore Orioles Ivan Nova 5 Home
4/10 Boston Red Sox Masahiro Tanaka 5 Home
4/11 Boston Red Sox Michael Pineda 5 Home
4/12 Boston Red Sox CC Sabathia 5 Home
4/13 Boston Red Sox Hiroki Kuroda 5 Home
4/14 OFF DAY OFF DAY OFF DAY OFF DAY
4/15 Chicago Cubs Ivan Nova 6 Home
4/16 Chicago Cubs Masahiro Tanaka 6 Home
4/17 Tampa Bay Rays Michael Pineda 6 Away
4/18 Tampa Bay Rays CC Sabathia 5 Away
4/19 Tampa Bay Rays Hiroku Kuroda 5 Away
4/20 Tampa Bay Rays Ivan Nova 5 Away
4/21 OFF DAY OFF DAY OFF DAY OFF DAY
4/22 Boston Red Sox Masahiro Tanaka 6 Away
4/23 Boston Red Sox Michael Pineda 6 Away
4/24 Boston Red Sox Vidal Nuno n/a Away
4/25 LA Angels CC Sabathia 6 Home
4/26 LA Angels Hiroki Kuroda 6 Home
4/27 LA Angels Ivan Nova 6 Home
4/28 OFF DAY OFF DAY OFF DAY OFF DAY
4/29 Seattle Mariners Masahiro Tanaka 6 Home
4/30 Seattle Mariners Michael Pineda 6 Home