Tuesday, February 12, 2013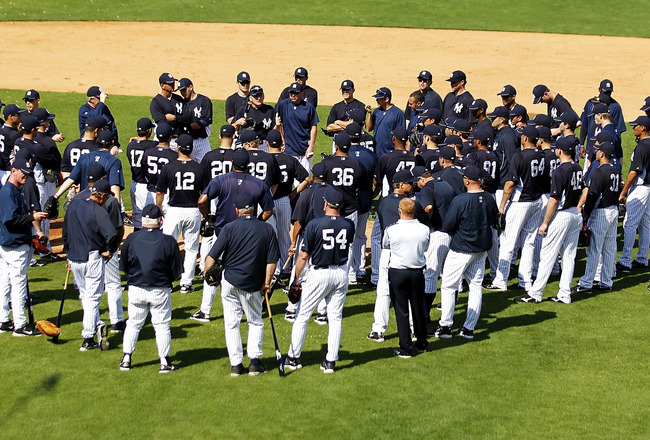 As you all know the Yankees opened up Spring Training camp today with pitchers and catchers reporting to camp and Joe Girardi having his annual State of the Yankees address. The biggest news to come out of the press conference was that Alex Rodriguez will be doing his rehab from his hip surgery in New York rather than with the team in Tampa. The Yankees say that this has nothing to do with the Biogenesis link and his connection to performance enhancing drugs but I do not think anyone is really buying that one.
The Yankees currently have Curtis Granderson penciled in to play center field with Brett Gardner playing in left field but that is not set in stone. Joe Girardi plans to use the spring to make that decision on who will be in center and who will play left.
The only pitchers that have not reported to camp that have an actual shot at making the roster are Andy Pettitte and Mariano Rivera. When you are Andy Pettitte and Mariano Rivera I guess you do what you want and I am not going to be the one to say anything about it. Michael Pineda and Cesar Cabral have made their way to Tampa and are both rehabbing from injuries. Neither are really expected to be in a Spring Training game.
Despite hearing Brian Cashman say that Yankees catching prospect Austin Romine will start in AAA with the Scranton Rail Riders Joe Girardi said today that Romine would get a serious look at being either the every day catcher or a back up catcher. Austin has come to camp after losing weight and says that he feels great and is without any kind of back pain. Austin will be in direct competition with Francisco Cervelli but I think the Yankees may have a change of heart after the Biogenesis link, just a hunch on my part though. Great news for Austin either way though to be healthy and back.
The first work out is tomorrow so we should have more tomorrow. Check back here all Spring Training long!
Posted by

Daniel Burch
at 6:58 PM
No comments:


Labels: Alex Rodriguez, Andy Pettitte, Austin Romine, Biogenesis, Brett Gardner, Cesar Cabral, Curtis Granderson, Mariano Rivera, Michael Pineda, PED, Scranton Wilkes-Barre, Spring Training