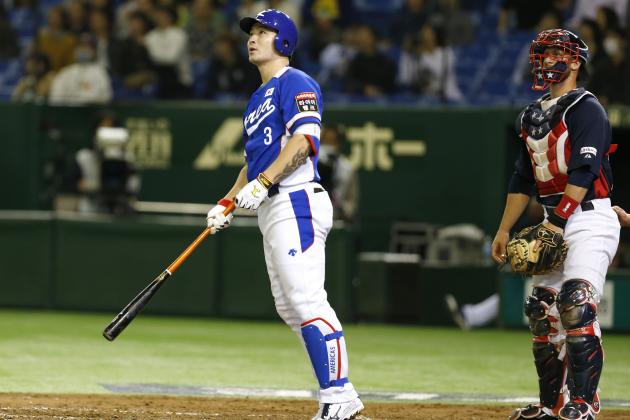 If you're anything like me your fantasy baseball drafts are coming up either sometime later this month or early next month. Some people like to draft as soon as Spring Training begins or even before, which I never understood FYI, but to each their own I guess. So much can happen between now and then. So many sleepers can emerge and so many stars can get injured while prospects can stand up and make a name for themselves making it impossible for the team to ignore. This is especially the case on small market teams that cannot simply outbid everyone else for a player's services in free agency, a team like the Minnesota Twins perhaps.
Gone are the days of Johan Santana, Joe Mauer in his prime, Justin Morneau the MVP and Torii Hunter the spider and in are players such as Phil Hughes, former Yankee John Ryan Murphy and Korean import Byung-ho Park.
Park was an absolute monster of a home run hitter during his last two seasons in Korea as he led the Korean Baseball Organization with 52 and 53 home runs respectively in 2014 and 2015. Even if the pitching is different and less difficult in Korea you have to think Park will run into at least 25 straight fastballs here in the states and could push 30-40 home run power. That's hard to ignore in fantasy baseball, even if it comes with a .250 average and mediocre defense at first base.
John Ryan Murphy will presumably be the everyday catcher in Minnesota but it's hard to put a finger on what exactly to expect out of the young right-hander. I did like what I saw personally out of Murphy during his time in New York though. He showed a bit of power and he is a line drive hitter that is capable of a .275 average with plenty of doubles, on-base percentage and home runs if you don't grab one of the top tier catchers in your draft. He's a big risk to take and a relative unknown but I love the line drives that his swing produces and I think he can be a serviceable MLB catcher.
Finally you have the defacto, or infacto depending on how you look at it, ace of the Minnesota Twins in Phil Hughes. Hughes was a monster in his first season with Minnesota as he rarely allowed a walk while striking out a healthy amount along the way. Hughes took a bit of a step back in 2015 and is no longer being relied on as the ace of the Twins staff, that distinction now belongs to Ervin Santana. If you need an ace don't reach too high for Hughes but if you need around a 10.0 K/9 and 15 or so victories Hughes would be a great grab in the middle-to-later rounds.
Those are your Minnesota Twins, hopefully one or two of them can help you own your Fantasy Baseball draft and league this season. Have a good night everyone!