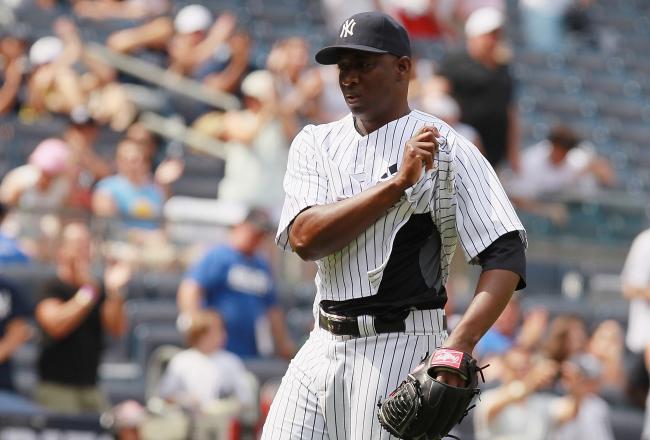 Well, if he is smart anyway. Rafael Soriano has been the saving grace to the Yankees bullpen this season after Mariano Rivera went down with an ACL injury in May. He has saved 40 of his 43 save opportunities and has united twitter with his #untuck hash tag that even the official Yankees twitter page is using. As we know Soriano has an opt our clause that could release him from his $14 million contract for 2013 which includes a $1.5 million buy out. The question that I have always asked myself is why would Soriano opt out of this contract? Let's look closer...
Soriano would essentially walk away from $12.5 million dollars after the buy out for 2013 and enter a pretty strong free agency market for closers that includes Jose Valverde, Grant Balfour, Johnathan Broxton, Brandon League, Ryan Madson, Fernando Rodney, Joakim Soria, Mariano Rivera, and JJ Putz to name a few. Not that many teams need closers so the market would obviously drive the prices down much like the market in the 2010 off season when Soriano signed on with the Yankees to be a set up man. Now granted Soriano, statistically, is probably the best closer available behind Fernando Rodney so I am not saying he would have to sign a similar deal I am just judging the market. Teams will not be bidding against themselves and agents will not be using teams like the Yankees to drive up the price as much as in the past.
Let's look at the highest paid closers in Major League Baseball. Mariano Rivera's contract that is set to expire at the end of this year, the highest paid closer in MLB history, is netting him $15 million annually. Brad Lidge not too long ago made $12.5 million annually, K Rod made $12.3 when he signed his mega deal with the Mets, Joe Nathan was once making $11.75 million with the Twins not too long ago, etc etc etc. With the new CBA allowing the Yankees to offer Soriano a "qualifying offer" of around $13-$14 million on a one year deal, that he would obviously decline or the opt out becomes pointless, the team who signs him would have to give the Yankees a first round draft pick in the MLB First Year Players draft. Historically what used to be referred to as Type A Free Agent relievers and closers have seen their market hurt when the draft pick compensation came into effect. This has to hurt Soriano's chances of getting more then $12.5 million annually.
Now if Soriano just wants to close that bad or wants the security of a multi year deal as he edges towards his mid 30's then who can blame him, right? Until you consider how he would presumably have the Yankees over a barrel if he did not opt out and Mariano Rivera came back for 2013 only to retire in 2014. The Yankees may be comfortable with a Robertson/Joba/Insert Flashy Prospect Here/ Free Agent closer by then because a lot can change between now and then so it is a risk that Soriano would have to be willing to take. A risk especially when you consider the Yankees plan to get under the $189 million luxury tax threshold. The point is though no one is going to give him the money the Yankees will and if he stayed and Mariano retires after next season no one will give him more money then the Yankees will then. So I ask again, why would Soriano opt out?