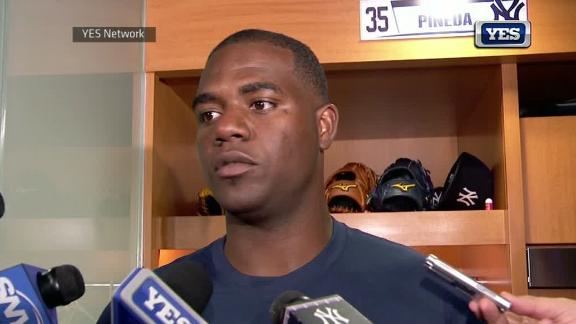 The New York Yankees and the Chicago Cubs are back at it today at Yankee Stadium in the night cap of their split double header. The Yankees will send Michael Pineda, presumably with a clean hand, to the mound to face off with Travis Wood for the Cubs. The game will be televised at 7:05 pm ET on MY9, MLB Network, on the computer with MLB TV, and can be heard on the radio with WFAN.
All the talk will be about Pineda and the "dirt" that was on his right pitching hand. Everyone will ignore that the Red Sox did not make a stink about it or that he pitched well after the gunk magically disappeared. The first time Pineda throws a ball or gives up a hit or a home run ESPN will be all over Pineda for being a cheater, right it down. Pineda shut down ESPN's beloved Boston Red Sox in his last start striking out seven in six plus innings of one run ball. Pineda looks to do it against the Cubs tonight.
Wood is a left handed pitcher who is coming off a career high nine strikeout game against the Pittsburgh Pirates in his last start. Wood has never pitched at Yankee Stadium, old or new, so this will be a first for him. With Wood being a lefty I expect Scott Sizemore, Alfonso Soriano, Derek Jeter, Yangervis Solarte, and possibly John Ryan Murphy getting starts as they are right handed. Hopefully the Yankees can jump on Wood... no pun.... early and often and get out of town with a victory.
Go Yankees!!