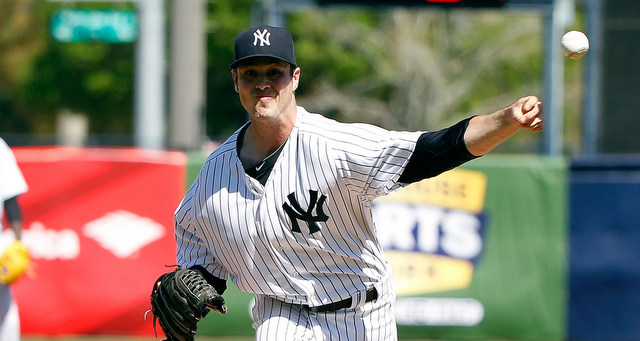 For the first time in a very, very long time the New York Yankees are seemingly having a competition in spring training to determine who their closer will be. As far back as the 1996 season John Wetteland was going to be the closer for the Yankees and starting in 1997 all the way to the end of the 2013 season the guy closing out games for New York was Mariano Rivera. Last season was the first season without Rivera but no matter what the Yankees said to keep his arbitration numbers down David Robertson was the new Yankees closer but this season there are two very viable and equally inexperienced closers for the Yankees to choose from in Dellin Betances and Andrew Miller. Who do they chose?
Much has been made of the control and velocity for Betances this spring but many haven't done the research before screaming that the sky was falling. Last spring training, and Joe Girardi confirmed this in a YES Network interview during one of the games that Betances pitched in, Betances was only hitting 92-94 MPH on the gun and was not as crisp and absolutely dominant as he was when he was in mid-season form in the Bronx. Granted Betances was better in 2014's spring camp but all in all these starts and stats mean absolutely nothing in the grand scheme of things. Betances is a big guy and will likely struggle with his mechanics and control his entire life but with a good pitching coach in Larry Rothschild I don't believe this is the finished piece we will see in April, let alone June, July or in September.
Miller has little closing experience but has been pitching in the American League East for a few seasons with the Boston Red Sox and the Baltimore Orioles most recently so the adjustment shouldn't be as drastic as with most free agent pitchers. Miller has looked as lights out as ever this spring with healthy strikeout numbers while showing an ability to get both left handed and right handed batters out. Miller looks like the more polished and ready pitcher at this point in the spring and has the veteran mindset to close out games anywhere, even in the Bronx.
Call me crazy but if I'm Joe Girardi I am giving the ball to Miller as my closer to start the season. I'd rather have Betances coming in and actually saving a game, just without the stat, in the sixth, seventh or eighth inning with the ability to go multiple innings rather than tying him down and saving him for one inning at a time. I know the same was said about Mariano Rivera after the 1996 season but Betances is not Rivera, no one is Rivera, and I'd rather take advantage of his young and fresh fireballing arm as often as we safely can and you cannot do that just one inning at a time.