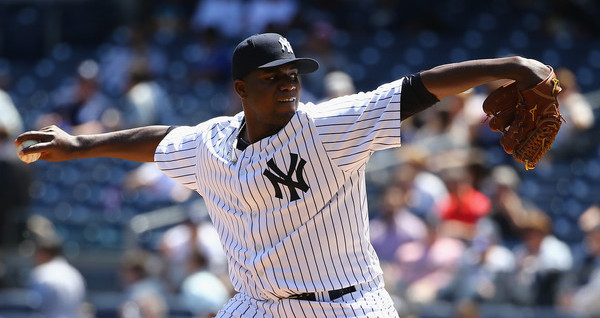 Michael Pineda tossed a pedestrian 5 2/3 innings, surrendering two earned runs on six hits as the
Yankees fell to the Rays, 3-2, in a 13-inning affair Wednesday at Yankee Stadium.
Pineda Hittable: Pineda cruised through this one's first two frames -- recording three of his five strikeouts while not allowing a baserunner -- but struggled to put hitters away from the third inning on. He gave up a two-out, two-run triple to Kevin Kiermaier in the fourth -- ultimately settling for his second no-decision of the season.
Bronx Bombing: Down 2-0 and floundering offensively against the Rays' Drew Smyly, the Yankees got on the board in the fifth with Chase Headley's third home run of the year -- a line drive to left that cleared the wall in a hurry. Chris Young then connected on a solo shot of his own in the sixth, tying the contest in a way obviously displeasurable to Smyly.
You Can Exhale, It's Just a Blister: Shortly after fanning two in a scoreless top of the eighth, Dellin Betances could be seen limping on his walk to the Yankees' dugout -- a scene that must've scared the club in the midst of Tuesday's injury to Masahiro Tanaka. Joe Girardi revealed in a post-game interview, however, that it was just a blister ailing Betances -- nothing that will sideline the reliever this weekend.
Good, But Not Perfect: The Yankees' bullpen solidly held the Rays to just one run over 7 1/3 innings on the afternoon, but was unable to claim the victory due to that one mistake. It came with Chasen Shreve on the mound in the Rays' half of the thirteenth, when James Loney plated Steven Souza with a sharp single to right.
A-Disappointment: Still one homer shy of 660 for his career, Alex Rodriguez had a truly terrible day at the dish for the Yankees -- failing to reach base and striking out four times in six at-bats. He had a chance to do some damage with a man on in the thirteenth, but rolled into an inning-ending double play instead.
Next Up:
The Yankees are off on Thursday, but return to action Friday
with a visit to the Red Sox. First pitch for the series opener at Fenway is set for 7:10 p.m. ET, with the winless CC Sabathia (0-4, 5.96 ERA) facing Boston's Justin Masterson (2-0, 5.16 ERA).