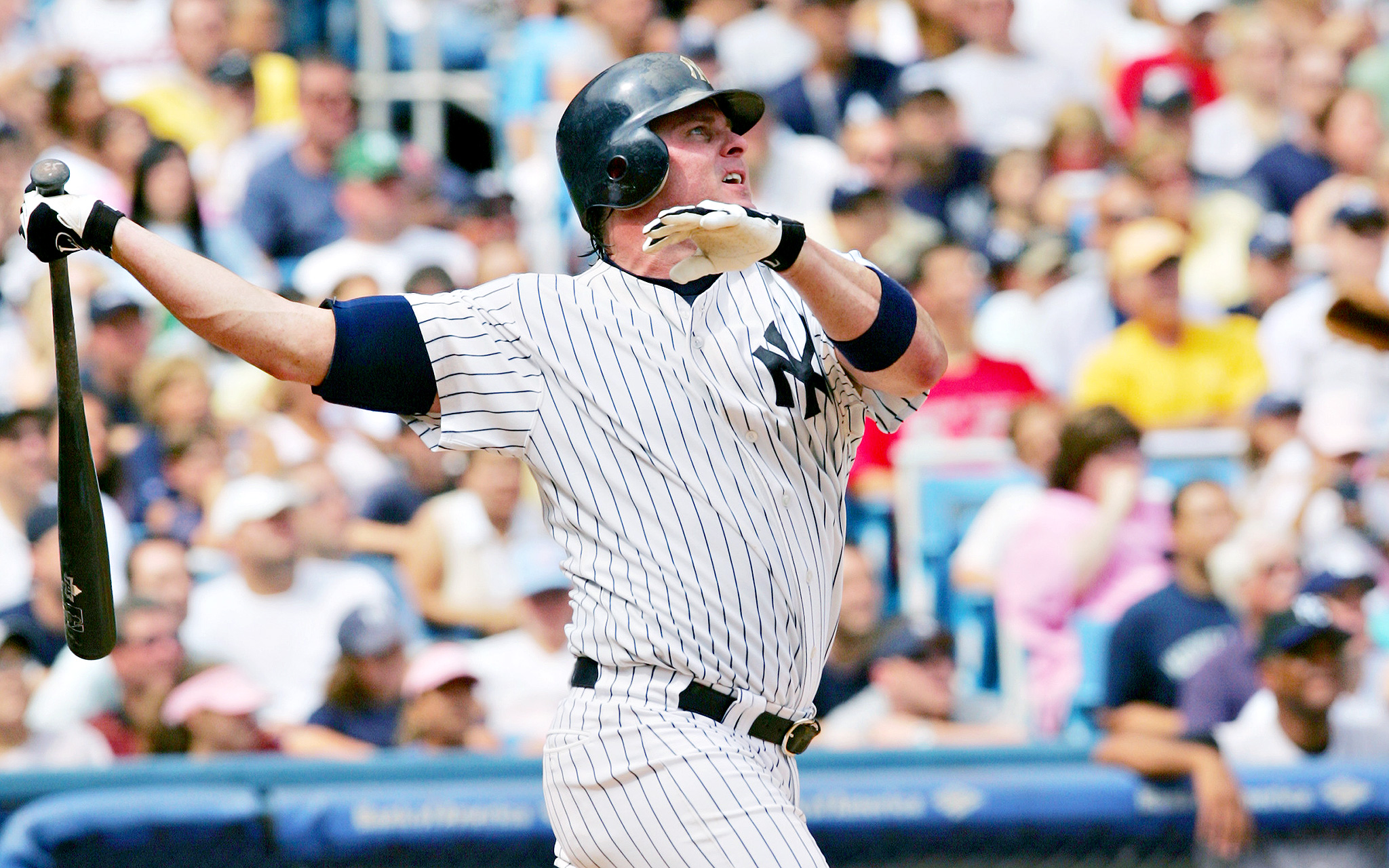 In case you didn't know or see the post on the blog from yesterday but the New York Yankees hitting coach Jeff Pentland is set to hit free agency after the 2015 World Series. The Yankees came into the 2015 season with two hitting coaches, Pentland and Alan Cockrell, and will likely decide to do so in 2016 as well. Will that hitting coach be Pentland, assuming he gets some of the credit for having the second highest scoring offense in 2015 and the team ignores the last six-to-eight weeks of struggles with the offense, or will it be someone else? The hitting coach could be Marcus Thames, a hitting coach in the minor leagues for the Yankees, Tino Martinez, a scout and adviser for the team, or could it possibly be Jason Giambi?
Giambi was the Yankees first baseman replacing Tino Martinez from 2002-2008 as he passed the torch to Mark Teixeira and was listed as an active player as recently as 2015 at age 43 with the Cleveland Indians. Giambi hit well during his major league career but his biggest asset was getting on base. Giambi retired with a .399 OBP with 1,366 walks which is 32nd best all time. This is all before you consider his 440 career home runs, MVP Awards and hitting titles with the Oakland Athletics.
Giambi has quite the reputation with the players and has drawn praise from current manager Terry Francona in recent years for his leadership and coaching ability. Giambi has also been one of the few players that have used PED's, admitted it, and came back better and better for it in the league. If anyone can use Giambi as a mentor more than a coach isn't it Alex Rodriguez? A Rod, Jacoby Ellsbury, Brian McCann, etc. already know how to hit but if they can learn something from Giambi I think he would be worth his weight in gold. Giambi could also be great teaching McCann and Mark Teixeira especially because he faced the shift, and went against the shift, for many years during his playing career.
Giambi was called a future manager by Terry Francona and could use the Yankees hitting coach position as a stepping stone for his ultimate goal. If the Yankees want to bring the Giambino back they have my vote of confidence.