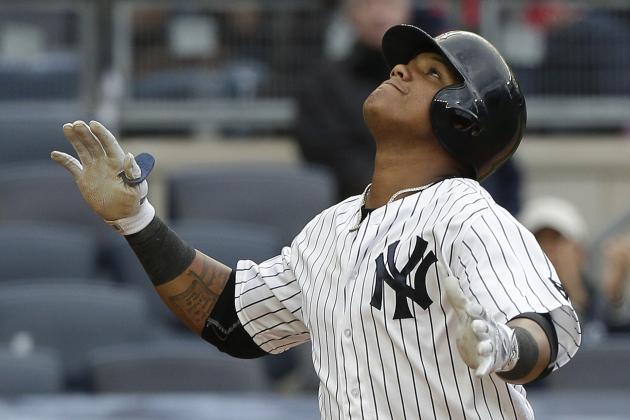 How convenient is it, spoiler alert it's not a coincidence, to make a blog post about the New York Yankees finally finding a potential second baseman not only for the present but for the future as well while the last second baseman the team thought that about is in town for a three game series? After just two weeks of the MLB season, and after many rants from myself a self-professed Robert Refsnyder fan boy and his biggest fan, it seems like the Yankees may have finally found their second baseman to finally replace Robinson Cano in Starlin Castro.
The Yankees tried multiple people at the position including Brian Roberts, Yangervis Solarte, Kelly Johnson, Martin Prado, Brendan Ryan, Jose Pirela, Dustin Ackley, Robert Refsnyder and Stephen Drew before finally settling on Castro after an offseason trade. The Yankees seem to be a fan of having Castro at the position and Cano himself does to as he revealed in an interview this weekend. Cano said Castro was "fun to watch" in an interview with Chad Jennings of LoHud.
Castro is still new to the second base position, I think a lot of people forget that defensively, and is still just 26-years old despite playing in his 7th MLB season in 2016. Castro already has surpassed the 1,000 hit plateau for his career and has already made three All-Star Games in his career with the Chicago Cubs. Castro may not even be into his prime yet and he currently sits here with some impressive stats and achievements already in his career.
Castro may be the second baseman of the present and he may be the second baseman of the future. He may grow out of the position and grow into the third baseman of the future and his bat seems good enough to possibly be the Alex Rodriguez type DH of the future. Either way Castro has a future and the Yankees may have finally found a second baseman after Robinson Cano left via free agency for Seattle and it's finally a beautiful thing to say out loud.