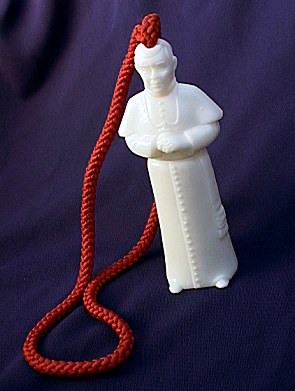 On this day in 2008 the Yankees Low A affiliate, the Charleston Riverdogs, commemorate the first visit of Benedict XVI to the United States with a Pope on a Rope Night promotion. The first 1,000 fans received a soap figurine which looked like the Holy Father.
Also on this day in 1953 Mickey Mantle was informed via the public address announcer that Mickey Mantle had just became a father. Mickey Mantle Jr. was the first of four sons by Mickey and Merlyn. Here is the Brooklyn Dodgers announcement at Ebbets Field: "Mickey doesn't know it yet but he has just become the father of an eight-pounds, twelve ounce baby boy."
Also on this day in 1935 the Yankees named Lou Gehrig the fifth captain in their history. The then 33 year old first baseman joined Hal Chase(1912), Roger Peckinpaugh (1914-1921), Babe Ruth( six days in 1922), and Everett Scott(1922-1925).
Finally on this day in 1931 former Chicago Cubs Joe McCarthy made his managerial debut for the New York Yankees. The future Hall of Fame manager, who has the most wins of any manager in Yankees history with 1,460, saw eight pennants and seven World Series titles during his 16 years in the Bronx.