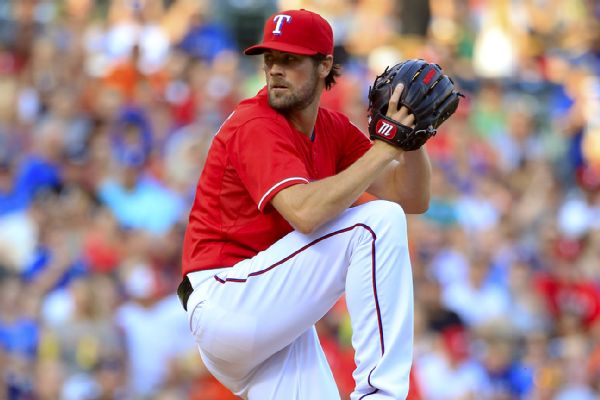 Earlier this week, albeit sarcastically, I declared it "trade season" in Major League Baseball and for the New York Yankees. While I believe it is still a little too early to start making concrete plans for the trading deadline before the calendar even strikes June, I think it may be safe to remove one player particularly from the Yankees wish list. His name is Cole Hamels and he was the starting pitcher for the Texas Rangers last night against the Yankees.
Cole Hamels is intriguing. Hamels is a veteran pitcher now pitching at 34-years old, and a pitcher with a ton of postseason experience including the 2008 World Series where Hamels won the MVP award. Hamels can still be an elite pitcher, not every fifth night but from time-to-time and is still throwing in the low 90 MPH with a devastating changeup. The Yankees would presumably love to add Hamels to their postseason push and to the mix, but Hal Steinbrenner is not likely to sign off on any acquisition for the Rangers left-hander. Why? Money.
Steinbrenner has stated the Yankees will keep payroll under the $197 million luxury tax threshold this season no matter what. Hamels is due to make $23 million in 2018 and would come with a $20 million club option or $6 million buyout for the 2019 season. Sure, with a trade the Yankees would only be on the hook for around $13.7 million of that, a prorated $7.7 million if the trade were to happen on July 31 plus the $6 million buyout, but that leaves New York a lot closer to the threshold cusp than they would like to be. The Yankees would have to pay more if they were to acquire him before July 31, that's the way prorating works, and there will be plenty of competition for him making him equally as expensive in terms of prospects.
This is all before you remember that Hamels can veto ANY deal to 20 teams this July, including the New York Yankees. Hamels may make the financial decision a moot point, who is to say that Hamels even wants to come to New York? Hamels has his World Series ring, so he may or may not be chasing a ring, or another shot in the postseason. Hamels may be content just pitching the rest of the season in Texas for all we know. Hamels may want to return to Philadelphia. We just don't know!
Thankfully NJ.com did an interview with Hamels this week while the team was in Texas and there were a few nuggets that came out of the Q&A. Here are a few questions and answers, for the entire list head over to NJ.com and read their amazing write up on Hamels and his potential trip to the Bronx.
Q: Are you aware that a lot of Yankee fans are bringing your name up quite a bit thinking that you're going to the final piece to their next championship?
Hamels: "Shoot, I helped them get a World Series in '09, so I'm sure they like me! … No, no. I understand it. It's kind of the nature of what happens, and I think anytime you get traded once, you understand that the possibilities are there. And as you get older if you're able to play well and keep of what I know I'm capable of doing, then it's each year you could be on a different team hunting down a postseason. So, it's kind of the nature of where I think I am in my career and in the contract and in the situation. (The Yankees) have a tremendous team. So really looking at them, it's some of the best baseball is now being able to watch the Yankees and Boston and I think that's just exciting for baseball fans in general and the game and the scope of it now creates with that drama that they've always had in their history. It's been good to see."
Q: You've always been super competitive. How important is it for you to be in a playoff race as opposed to just pitching?
Hamels: "I think you always look at it as you want to win every game that you go out and play. And then there's a lot of games that I don't get to play in, and you want to be able to see the sort of winning environment, that sort of atmosphere, the excitement from everybody. I think that's kind of the energy that now has being created over in the AL East with those guys."
Q: Cliff Lee chose the Phillies over the Yankees when he was a free agent after the 2010 season. (Lee brought up his wife being harassed at Yankee Stadium in his signing presser with the Phillies). How do you feel about New York?
Hamels: "Actually, that's not really the truth. I think it was between the Phillies and Texas truthfully. I don't think the Yankees really had that sort of opportunity (to sign Lee in 2010). Knowing Cliff, it was Phillies and Texas. For me, it's to play baseball. This is where I wanted to be. I'm fortunate enough to be here, and we made pretty good runs in '15 and '16. Last year was kind of tough. This year we're working through some things. But for me, it's just to go out there and play. This is the team I enjoy the most to be a part of. But I think you just have to look at it and it is what it is. I don't really necessarily make the decisions or point the direction of what we're trying to do or what ownership and management is trying to do. I'm just one piece that's trying to help win ballgames. It's a matter of being here and doing what I can until there's a different situation or the time has come. So, I don't really get to affect it as much as I think people think."
Q: Why did you pick the Yankees as a team that you could block from trading for you?
Hamels: "It's just a list. Really, it's just kind of like heads up. So, I think what it really comes down to is it's something that's there. It just kind of provides a little bit more information, a little bit more bargaining power. That's kind of really what that entails. But at the end of the day, situations kind of come up and I think everybody understands what can transpire. It's just kind of a formality. I don't think it's anything that kind of needs to be looked into too deeply. I love it here (in Texas) and I'd love to be able to win here. But if management changes the direction, (getting traded) is just an opportunity to win and get to October. I think that's the real baseball. That's kind of where you test your skills the most."
Q: Did you get to know Yankees manager Aaron Boone from his days at ESPN? Have you been interested to see how he's doing with no manager experience?
Hamels: "I think knowing his personality, and I know with him being around baseball so long, I don't think you have to look at it as inexperienced. I think he was born and bred into baseball, so I think he would know better than anybody you don't need a college degree to move around lineups and know momentum and who's better matching up. The initiative of just being who he is has been pretty good. And he's got a pretty good team to be able to manage too, so I think that helps."
Q: What's it going to be like facing the Yankees with Giancarlo Stanton and Aaron Judge?
Hamels: "I didn't get to face them last year. I think I was on the DL during the two times we played the Yankees. It was unfortunate because it's always fun to pitch against the Yankees and especially in that sort of (atmosphere). But they do have a lot of power, so you just have to limit the damage. Solo home runs are probably the key. If you're going to give up 500-foot home runs, try to make sure they're solo and they're not bunched together in fours and fives. Like anybody, there's holes (in their lineup) and you just have to exploit it and you have to be able to locate. I think really what it comes down to, it's a chess match and you try to study up as possible. But really at the end of the day you have to execute, and whoever executes the best and the most often comes away with the win."
Q: You joked about blowing the 2009 World Series. Does your (five-run, 4 1/3-inning) performance in Game 3 still bug you?
Hamels: "The opportunity that I was given … I was a lot of runs early and to not be able to hold that (3-0) lead. The series was even. To not be able to hold that lead, I think it as kind of a pivotal moment and that kind of changes the tide in a series, especially when you're home. So, I think that kind of always leaves a bitter taste in your mouth, especially against the Yankees. You always want to go to the postseason and beat the Yankees. I think that was kind of how I grew up (in San Diego). I got to watch all those (1990s and 2000) Yankees teams win as a kid, especially when they took down the hometown Padres (in 1998). You always want to try to get one on 'em, but they got me (in 2009). I wasn't able to solidify the job and then I didn't have an opportunity for a Game 7 (because the Yankees won in six games). Who knows what would have happened if I had even been there (in Game 7). It wasn't a very good postseason for me. It definitely taught me a lot. If that didn't happen, I wouldn't have the type of pitches that I have (now) and the repertoire and obviously that toughness."
So, will Hamels end up in the Bronx? Maybe. Stay tuned.