What else can be said about Derek Jeter that he has not said by himself, only with his bat. The owner of the Yankees Captain spot, 5 World Series rings, and basically anything else he wants, Derek Jeter has been the poster boy for all of baseball and especially the New York Yankees since the 1996 season. While Derek Jeter surpassed 3000 hits last season he has Pete Rose's hit record in his sights, it is just a matter of if he wants it enough to keep playing. If you look at Derek's list of woman folk he has had attached to his arm you would know that Derek gets what Derek wants. It was not always like that though so let us meet the kid from New Jersey, Derek Jeter.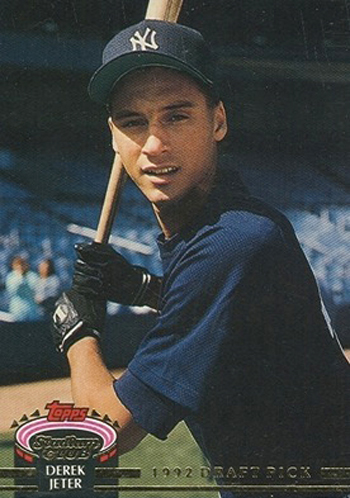 Derek Sanderson Jeter was born on June 26th , 1974, in Pequannock, New Jersey to parents Dr. Sanderson Charles Jeter and Dorothy Jeter. Derek's parents, a substance abuse counselor (Sanderson) and an accountant (Dorthy), met while serving in the United States Army in Germany. Derek's parents, at a very early age, were very strict and hard on him but very consistent. As a child his mother instilled Derek's positive attitude in him, insisting that he could not use the word "can't". Derek even had to sign a contract every year that set acceptable and unacceptable forms of behavior. Derek lived in North Arlington, New Jersey, until he was four years old when he moved to Kalamazoo, Michigan. Derek and his sister, Sharlee, attended New York Yankees games while spending the summers with their grandparents in New Jersey and became very passionate about the Yankees. Derek later said that as a child Yankees stand out Dave Winfield inspired him to pursue baseball.
Derek spent his high school days at Kalamzoo Central High School where he played baseball and basketball. In his sophmore year he batted .557 and followed it up with a .508 average in his junior year. In his senior year he hit .508 with 23 RBIs, 21 walks, 4 home runs, and a .831 slugging percentage with a .637 on base percentage, 12 stolen bases in 12 attempts, and just a single strike out. After a stellar season like that Jeter received an All State honorable mention, the Kalamazoo Area B'nai B'rith Award for Scholar Athlete, the American Baseball Coaches Association 1992 High School Player of the Year Award, 1992 Gatorade High School Player Of The Year Award, and USA Today's High School Player of the Year. This kind of acknowledgement got him a scholarship offer to play baseball from the University of Michigan that he obviously declined. Much later in his career Kalamazoo Central High School inducted Jeter into their Athletic Hall of Fame, in 2003, and renamed its baseball field in Jeter's honor in 2011.
Derek was drafted straight out of High School by the New York Yankees in the first round of the MLB First Year Players Draft 6th overall. Hal Newhouser, a scout for the Houston Astros team that had the first pick overall that season, lobbied for his team management to select Jeter although the Astros feared that Jeter would require a salary bonud of at at least $1 million to skill college and go pro. The Astros, instead, drafted Phil Nevin and signed him for $700,000. Newhouser felt so strongly about Jeter and the waste of a pick that he quit his job with the Astros in protest. The Yankees gave Jeter a $800,000 signing bonus to skip being a Wolverine and instead become a Yankee. Yankees scout Dick Groch said he would not go anywhere but "Cooperstown".
Derek played four season in the Yankees minor league system, beginning with a struggle in the Gulf Coast League. His manager even had to bench him at the end of the season in 1992 so his average did not drop below the Mendoza Line, .200 Batting Average. In 1993 though he came out of the offseason determined and was voted the Most Outstanding Major League Prospect by the South Atlantic League managers after hitting .295 with 5 home runs, 71 RBIs, and 18 stolen bases. He was also named to the All Star team even though he committed a South Atlanta League record 56 errors. Somehow, though, he was named the SAL's Best Defensive Shortstop, Most Exciting Player, and Best Infield Arm by Baseball America. In 1994 he was named the Minor League Player Of The Year Award by Baseball America, The Sporting Newas, USA Today, and Topps while winning the MVP of the Florida State League. The 1994 MLB strike and mild inflammation in his right shoulder while in the Arizona Fall League kept Jeter from the majors, officially, in 1995 but he would be called up for the post season run to sit on the bench and take in the experience of playing for New York.
Derek was named the Yankees starting short stop starting for the 1996 season after Joe Torre stood up against George Steinbrenner, who as we all know was never happy about the growing pains young players have to go through. Steinbrenner even approved a trade that would have sent pitcher Mariano Rivera to Seattle for short stop Felix Fermin because Gene Michael and Brian Cashman convinced Steinbrenner to give Jeter an opportunity. Aren't we glad that he did?
Jeter was the first rookie short stop to start the season as a starter for the Yankees since Tom Tresh in 1962 and he did not waste any time getting acclimated, hitting his first MLB home run that day. He won the Rookie of the Year award after hitting .314 with 10 home runs, scoring 104 runs, and driving in 78 RBIs. His first post season home run came in the ALCS against the Baltimore Orioles, the Jeffrey Maier home run. Jeter won his first World Series ring in that rookie season when the Yankees defeated the Atlanta Braves in 6 games, the first Yankee World Series since 1978. Jeter batted .361 in that post season. 1998 was Jeter's first All Star Game appearance while the Yankees won 114 games during the regular season while on, in my very biased opinion, the greatest team of all time. Jeter would finish third that season in MVP voting but most importantly Derek had his second ring as the Yankees beat the Padres in 4 games. Another All Star appearance in 1999 and another World Series ring with the Yankees beating the Braves again for Jeter's third ring. After the 1999 season Derek agreed to a 7 year $118.5 million dollar contract but George Steinbrenner did not want to set a salary record and pay Jeter more then Juan Gonzalez, who was working on an 8 year $143 million dollar extension, so the Yankees agreed to a 1 year deal worth $10 million. That ended up being a "mistake" because Jeter had another All Star appearance, including the game winning hit and All Star Game MVP, and had yet another World Series ring when the Yankees beat the Mets in 5 games. Jeter, while winning his fourth World Series ring, won the World Series MVP and became the only player to ever win the World Series and All Star Game MVP in the same season. Jeter then signed a 10 year $189 million dollar deal, making him the second highest paid player in baseball behind Alex Rodriguez, which was much more then the original extension proposal
Derek would make his fourth All Star game appearance in 2001and also made the "flip play" in the ALDS against the Oakland A's that will forever be remembered. Jeter would also earn the title "Mr November" when he hit a game winning home run as the clock struck Midnight on November 1st, the first World Series to ever be played in November. The Yankees would lose the 2001 World Series to the Arizona Diamondbacks in, again in my biased opinion, the greatest World Series of all time. Jeter would dislocate his left shoulder on Opening Day of the 2003 season when he collided with Blue Jays catcher Ken Huckaby at third base, missing 36 games. That season Derek Jeter was recognized as the 11th captain in Yankees history eight seasons after Don Mattingly, the last Yankees captain, retired. After typical Jeter seasons from 2003-2007 Jeter tied Lou Gehrig's record for hits at Yankee Stadium with his 1,269th hit with a home run off of Ray's pitcher David Price in 2008. He broke the record two days later when he got a hit off of White Sox pitcher Gavin Floyd.
2009, after the Yankees missed the playoffs for the first time in 14 seasons, reloaded with many free agents signings and trades that brought CC Sabathia, AJ Burnett, Mark Texeira, and Nick Swisher to name the big ones. This would also be the season that Derek would return to the lead off role when Girardi flipped him and Johnny Damon in the batting order. Jeter recorded his 2,675th hit as a short stop, passing Luis Aparicio's previous record for short stops, in August of the 2009 season. Jeter followed that up by passing Lou Gehrig as the Yankees all time hits lead when he singles off of Orioles pitcher Chris Tillman on September 11th, 2009. Jeter would win his 5th World Series championship in 2009 when the Yankees defeated the Philadelphia Phillies in 6 games to win their teams 27th World Series Championship of their storied history. Jeter also won his 5th gold glove that season and finished third in the MVP voting behind eventual winner Joe Mauer and teammate Mark Texeira. In July of 2011 , off of pitcher David Price of the Rays, Derek collected his 3000th hit on a home run to left field at Yankee Stadium. He is now assaulting Pete Rose's all time hit record.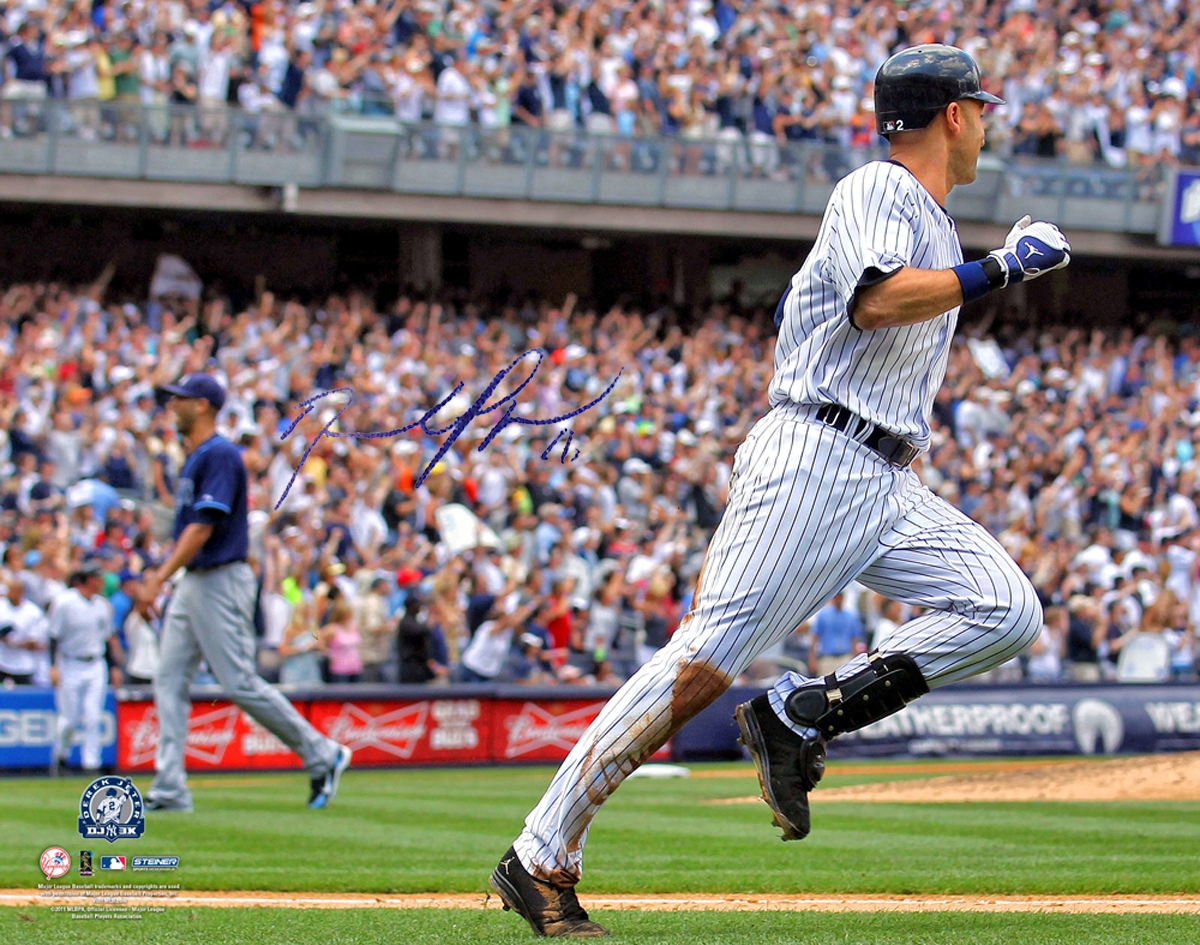 Derek Jeter created the Turn 2 Foundation in 1996, a charitable organization, to help children and teenagers avoid drug and alcohol addiction. and it also rewards those who show high academic achievements. Derek also serves as an ambassador for Weplay, a website designed to get children involved in sports. Jeter, when not being a good charitable person, is probably hanging out with a beautiful woman. Derek's little black book includes girls like Scarlett Johannson, Minka Kelly, Mariah Carey, Miss Universe Lara Dutta, Gabrielle Union, Joy Enriquez, Jordana Brewster, Vanessa Minillo, Jessical Biel, Jessica Alba, and the list goes on and on... I hate you Derek Jeter.
What do you say to summarize Derek Jeter, I mean really what can you say? Going into the 2012 season he is a 12 time all star, 5 time Yankee Player of the Year, All Time Yankees hit leader including the only player in Yankees history to reach 3,000 hits, 5 gold gloves at short stop, 4 silver slugger awards, 2 GIBBY Awards for Moment Of The Year, 2 Hank Aaron Awards, 2 Lou Gherig Memorial Awards, Sporting News and Sports Illustrated All Decade Team, a Roberto Clemente award, an All Star and World Series MVP, 5 World Series rings, an AL Rookie of the Year, being on the team who went to the playoffs in 16 of his 17 seasons, and the list goes on and on and on and on and on. The greatest part of it all though? He still goes out there every day that he physically can, hurt or not, and has just as much fun today as he did in 1996 for the Yankees. The Captain... Derek Jeter.
The time has come where we must end another week of Special Edition versions of Meet A Prospect but not before we do something even more special... Tune in tomorrow where we meet the Yankees current manager and former catcher, Mr. Joe Girardi (braces and all). See you tomorrow at noon!